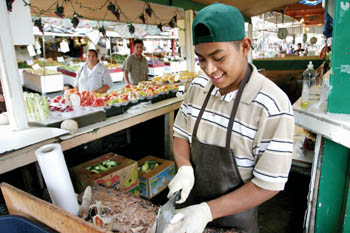 Goin' Coconuts: Orlando cuts up coconuts to make delicious coconut water at the Flea Market.

Flea Enterprise

Buy! Sell! Eat! The flea market is an offbeat culinary adventure.

By Stett Holbrook

AS A KID growing up in Silicon Valley, I often heard people talk reverently about the San Jose Flea Market. Conversations usually went like this:

"Dude, where did you get that Love Gun–era Kiss belt buckle?"

"The flea market," came the smug answer.

Then there was the simple boast: "Check out this cool switchblade knife I got at the flea market!"

But for some reason, I never made it out there. For years, it remained a distant land of cheap socks, fake plants, cowboy boots and other treasures. Until now.

In addition to great deals on upholstered seats, haircuts and framed painting of dogs playing poker, what finally got me there was the food. While it has the requisite cotton candy and corn dogs, you can eat and drink pretty well at the flea market.

Built on land that once housed cattle feed lots, the 45-year-old, 120-acre flea market has grown into the largest outdoor market in the country, and it attracts more than 4 million people a year. If you're one of the few people who haven't been there, here's the deal: The place is laid out like a small city. Numbered streets run one way and lettered streets the other. There's even a Main Street. Mariachi bands and other musicians play on small stages. During the weekends, the place is as crowded as rush-hour Manhattan, but it remains very orderly and clean. Best of all, vendors driving little golf cart–like vehicles peddle cold Budweiser and Miller on tap. If only real cities were as civilized.

The grandest avenue of all is Produce Row, a quarter-mile-long street that's reportedly the largest farmers market in the state. In addition to a great variety of familiar and foreign fruits and vegetables, there are ministores selling everything from dried chile peppers to dried shrimp. It's overwhelming.

What's more, there are more than a dozen restaurants, snack bars and food stalls scattered all over the flea market. My first stop was Big Beef, one of two barbecue restaurants. I ordered the pork ribs ($7.75) and Grammy beans ($1.25), and both were excellent. The meaty bones were caramelized a dark brown outside with just a light brush of sauce. Inside, the meat was juicy and moist. The beans, a soupy ladle of pork-flavored pinto beans, were the perfect side dish.

Next up was Kabob House, a restaurant that on the flea market map says it's an Afghan restaurant, but it sells tortas, ribeye sandwiches and hot dogs as well. I went for the combination kebab plate ($7.99) and chose the chabli and chicken kebab. The chicken was mildly spicy and tender but the chabli kebab was the real star. Made from marinated and highly seasoned ground beef, the patty was pleasantly spicy and full of flavor. Both kebabs were served atop a mound of creamy basmati rice. The naan served alongside was rather stale but the side salad of red onions, tomatoes and cilantro was good.

Heading back to the center of the market, I passed Nature Select. I figured this restaurant would have veggie burgers, tofu or something vaguely healthy on the menu. Nope. The closest the corn-dog-and-burger joint came to healthy was a sign that said they serve salt-free fries. I passed on that and walked on down to Super Torta. Because the market has such a Latino flavor I figured the Mexican food would be particularly good. But the carne asada torta ($4.50) was one of the worst I've ever had. The bread was more like a French sandwich roll rather than a true telera roll. Wan tomatoes, limp iceberg lettuce and dry, unseasoned chopped beef dragged it down further. Not even a heavy dose of salsa could revive this sad sandwich.

By this time, I was getting full, but I couldn't help notice a line forming for the "tostilocas" around the corner. I ordered a watery tamarind agua fresca and watched the vendor prepare this unique dish. Using a pair of scissors to open a bag of Tostitos, the guy sprinkled in another smaller bag of shelled peanuts and followed that with diced cucumbers and then a tong full of pickled pork skin from a jar on the counter. After that came a squirt of lemon juice, two kinds of red salsa and a sprinkle of salt. Then he stuck a fork in the bag and gingerly handed the whole package over to the customer. It's a Mexican version of a Frito pie, a Tex-Mex classic of chili over Fritos.

Well fed, I walked down crowded Produce Row again on the way out and passed Frutas Tropicales Ortega. The counter is lined with jar after jar of delicious-looking fruit juices like strawberry, lemon, melon, mango and passion flower as well as with horchata and the hard-to-find tejuino, a fermented, mildly alcoholic corn-based drink traditionally made in Jalisco and Colima, Mexico.

I'll be back soon for a glass of tejuino to wash down a bag of tostilocas. Although I don't know how well the tortilla chip and pork skin concoction will travel, I can't wait to show it off to my friends and do a little flea market boasting of my own.
---
San Jose Flea Market
Address: 1590 Berryessa Road, San Jose.
Phone: 408.453.1110.
Hours: Open Wed–Sun, dawn to dusk.
---
---
Send a letter to the editor about this story to letters@metronews.com.
---
[ Silicon Valley | Metroactive Home | Archives ]