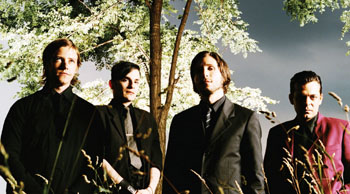 Style Council: Interpol tours with a full-time haberdasher.

Frantic 'Antics'

Interpol moves beyond the comparisons

By Christine Lee

INTERPOL doesn't want to be lumped in with all those other New York indie rock bands that remind you of your favorite '80s band. And it certainly doesn't want to be grouped with those other bands that dance their angst away.

"Musically, with some of those bands, what we have in common is that the music doesn't suck. Otherwise, I think we're a little different," shares Sam Fogarino, Interpol's drummer. "[References to prior bands] I don't pay too much mind to. There's some music that is defined by the time it was made. But I always get turned off when music gets tied to a certain decade or genre. The lines are constructed, and while some music does embody that certain period or time, it can also transcend it."

That seems to be the goal that Interpol has in mind—to move beyond the many comparisons that tail the band. The Psychedelic Furs, New Order and Joy Division seem to follow Interpol wherever its Antics may take them. Although the band's haunting, melodramatic sound may drive you to the drink in the same way, Fogarino's desperate drumming and Daniel Kessler's guitar strums are all original.

Kessler met bassist Carlos Dengler while attending New York University. After running into future guitarist Paul Banks on the street, Daniel convinced him to join Interpol as vocalist. Interpol began playing with Greg Drudy on drums but recruited Fogarino shortly after Greg left the band in 2000. Add two parts mussed hair, suits and skinny ties, shake and repeat.

The band signed to Matador Records in 2002 and released the well-received LP debut, Turn On the Bright Lights. Its follow-up, Antics, came in 2004 and exceeded its high expectations. This summer, Matador capitalized on the media bandwagoneering and released a special edition of Antics, which comes with a remix CD and a bonus disc that includes mixes by each member of the band as well as video clips and the previously unreleased "Song Seven."

After touring for more than two years, the band will wrap up its tour in October to begin work on its third album. "We've been working and touring for more than two out of the last three years. I'm not used to having a substantial time off so it might be odd for a while. I'll have to rediscover what I like to do. Lately, my hobby has been touring," Fogarino says.

The songwriting process is independent yet collaborative, with each member contributing an area of expertise. "Usually, Daniel will bring in the seed that gets planted. The lyrics never come first, and always come from Paul. I've never been in a band where anybody other than the singer comes up with the lyrics. It's best in terms of honest conveyance that one comes up with his own words."

After two successful albums, Interpol is making efforts not to go the way of most hot, new, indie rock bands—falling off and languishing in musical purgatory known as the bargain bin. The members feel that they have a strong dynamic and that longevity is theirs if they stick together.

Although some of them have dabbled in remixing and working with other people, none of them has a definitive side project, and they remain firmly committed to starship Interpol.

"The band is the most important thing to the guys in Interpol, and Interpol itself is greater than the individuals. The band, on a whole, has its own identity and is the most secure thing around us. As unstable as an individual can be, you don't want to hold on too hard but just hope that it lasts and that we don't overstay our welcome."
---
Interpol and Boom Bip play Thursday (Sept. 15) at the San Jose Civic Auditorium, 145 W. San Carlos St., San Jose. The show begins at 8pm, and tickets are $25 available at Ticketmaster (408.998.TIXS)
---
---
Send a letter to the editor about this story to letters@metronews.com.
---
[ Silicon Valley | Metroactive Home | Archives ]