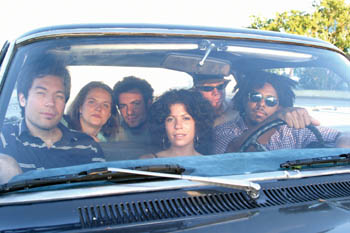 Reverse Engineering: Nevada Backwards (Troy Kimura, Nikelle Gessner, Brian Ballentine, Rachel Fowler, Mick Stevenson and Rodg) do not drive defensively.

All Born to Die

Nevada Backwards look on the sunny side of life

By Bill Forman

THREE lessons you can learn from talking to Nevada Backwards: First, when your thumb breaks on tour, you can tape a fork to your hand and still fret the guitar with it. Second, when getting back onstage a month after a near-fatal head injury, a crash helmet is your best protection against a raucous frontman. And, third, when an axle busts on your tour bus, the brakes stop working.

Twentysomething Nevada Backwards frontman Brian Ballentine has racked up more than his share of tales from the road, the most recent being a near-death incident starring the band's temperamental tour bus. Amazingly, the band just made it back unscathed from a main stage appearance at Burning Man.

Onstage, the Sacramento band is a shambolic mix of revival show and runaway train. High on adrenaline, Ballentine dives from PA stacks, bashes an already-battered guitar and sings his lungs out. Banjo and guitar wielding Mick Stevenson frequently carries Ballentine around on his shoulders, while violinist Nikelle Gessner typically looks on in wry amusement, as she and backup vocalist Rachel Fowler drive home propulsive rhythms laid down by drummer Troy Kimura and bassist Rodg. Somehow, they manage to keep it all from flying off the tracks and, along the way, make some beautiful noise.

Adaven, released this past winter on the group's own Grandma's Phonograph Co. label, captures the band's full fury on record. A critic might place the sound somewhere between the Southern gothic rock of 16 Horsepower and the medicine-show shamanism of Bob Dylan's Rolling Thunder Revue.

"I hear 16 Horsepower a lot," says Ballentine of the band's theoretical influences. "And I hear people saying my voice is kinda like, what's that guy ... 'The Boss' ... what's that guy's name?"

Um, Bruce Springsteen.

"Yeah, and Billy Corgan from the Smashing Pumpkins. People try to compare us, but I don't pay attention to it," he says.

Ballentine's lyrics tend to be fairly oblique, though they're always grounded in experience. "People come up and tell me that a song totally brings back their ex-girlfriend, and I hate to tell them that it's actually about something completely different. People think I'm singing about a girl, but it's really about my brother dying or the band breaking up."

Not to say that Nevada Backwards doesn't have uplifting songs. Ballentine has a whole arsenal of what he calls "crowd songs"—"Billy Bob," "Drinking a Beer" and the totally infectious "Maybe I'm Not What You Think I Am"—that still haven't found their way onto record.

Of course, Nevada Backwards fans are just as happy to sing along with Adaven tracks like "Bombfire," with its catchy refrain, "Prepare yourself, we're all born to die."

"It's sad, but it's also positive," Ballentine says of the song, which brings us around to lesson four: "We don't live in a perfect world, and there's a lot more shit that's going to happen. And it's true we're all gonna die, so you just live your life while you're here."
---
Nevada Backwards play Friday, Sept. 16, at the Aptos Club, 7941 Soquel Drive, Aptos.
---
---
Send a letter to the editor about this story to letters@metronews.com.
---
[ Silicon Valley | Metroactive Home | Archives ]