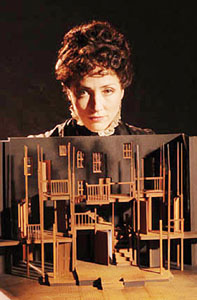 Photograph by Kevin Berne

Ready, Set, Go: Tamara Harden's Sarah Winchester contemplates the mother of all remodels in 'The Haunting of Winchester.'

Haunted, Dead or Alive

San Jose Rep inhabits a famous local mansion with ghosts and other goodies in 'The Haunting of Winchester'

By Marianne Messina

IN HER BOOK and lyrics for San Jose Repertory Theatre's current musical, The Haunting of Winchester, Mary Bracken Phillips (with help from composer Craig Bohmler) turns the Winchester mystery on its ear. This whimsically humorous Sarah Winchester is not obsessed or deranged or fending off ghosts in a struggle for sanity; she's a woman bequeathed the sudden gift of creative freedom who devotes that gift to her "career" (as a sort of ghost therapist). The play's genius is in taking Sarah Winchester the "curiosity" and making her a warm, rather down-to-earth woman whose strong suit, with the help of actress Tamra Hayden, is compassion. Some of the best staging/choreography (Cassie Beck, choreographer) happens early on in Mrs. Winchester's haunting. The ghosts, all killed by Winchester rifles, are clamoring—several have bones to pick with the also-deceased outlaw gunman Jack Kerrigan (Dan Sharkey)—and Sarah and her niece Minnie (Carrie Paff) carry on a human conversation in the thick of the ghosts' saloon-style brawl. Butler takes full advantage of the slapstick potential in a house that boasts a stairway to a ceiling and a door to an 8-foot drop (with a sink at the bottom). Not to mention how nicely a convoluted, three-story house can accommodate the standard parlor comedy (incredible set design by William Bloodgood, down to the dark, unfinished wood). Phillips includes references galore to the real house and its lore—including a clever use of the Shakespeare quotes designed into two of Sarah's Tiffany glass windows and a unique take on why Sarah didn't admit Teddy Roosevelt when he came to visit. There is no shortage of referencing in styles, facts and forms. In two humorous scnes, Bohmler's musical score quotes the Western two-step and the country waltz. Also, big props to clothing designer Maggie Morgan for the stunning black cape embroidered in silver and gold that Mrs. Winchester wears in her séance room. When Hayden whisks around, you can't miss the infamous spider-web pattern ubiquitous throughout the Winchester house.

Unfortunately, the script shows signs of stress from trying to tie up too much background material. The cutout conflicts and accidental desires sometimes feel more like connect-the-dots than a coherent story driven from a powerful core. The song lyrics trot out poignant themes ("What do I do with my life?"), few of them earned by plot; the ghostly Jack Kerrigan says nothing in all his lyrics and dialogue to make him remotely sympathetic.

Luckily, Dan Sharkey has enough presence to go where the dialogue only dreams of going. He brings something engaging if not endearing to Kerrigan, and cuts an almost rebellious/alternative figure in his villainous blacks—trousers, vest, waistcoat and hat. Kerrigan's spirit guide, Marisa, is played by another charismatic performer, 12-year-old Lizzi Jones. Jones sings sweetly in a childlike voice that awakens the urge to hug and hold, but she can turn bratty—enough to enjoy taunting Kerrigan with lines like "If you were so fast; how come you're so dead?" Of the ghosts, Cassie Beck stands out as the saloon floozy, Elena.

Beck's choreography and Butler's vision have invented some creatively funny ghost-possession dances. In fact, the whole production team excels at ghostly delights—from a thunderous lightning show-opener to the flying Lizzi Jones to sound designer Jeff Mockus' subtle use of rear corner speakers to add layers of eerie whispers behind the audience. The Haunting of Winchester offers plenty of humorous surprise, and it's full of one-liners that make you realize just how many of our idioms assume the speaker is alive.
---
The Haunting of Winchester, a San Jose Rep production, plays Tuesday–Friday at 8pm Saturday at 3 and 8pm, Sunday at 2 and 7pm (no 7pm on Oct. 2) with a noon show Sept. 28. The play runs through Oct. 2 at the Rep, 101 Paseo de San Antonio. Tickets are $33–$55. (408.367.7255)
---
---
Send a letter to the editor about this story to letters@metronews.com.
---
[ Silicon Valley | Metroactive Home | Archives ]