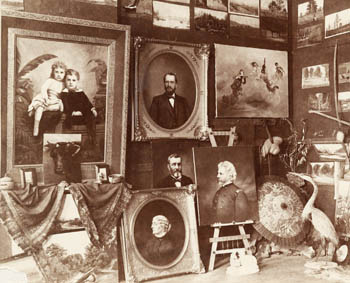 Canvas Crowd: Andrew P. Hill kept his studio well stocked with paintings and props.

Valley Viewed

'Artists for Hire' at History San Jose reveals how San Jose's finest paid to have themselves immortalized

By

WITH CURRENT movements like Pacific Art Collective, Phantom Galleries and South Bay Art Momentum going high hog to promote Silicon Valley artists, why not take a walk through the history of artists in the valley?

Artists for Hire: Painting for the Market in Santa Clara Valley marks the beginning of an ongoing program at History San Jose that hopes to accomplish just that. Exploring primarily portraits and landscapes, the exhibit features more than 35 paintings by Santa Clara Valley artists from the 19th and 20th centuries.

Local historian Leonard McKay contributed some of the paintings. "There are stories behind everyone of them," he mused.

There's even an original piece of artist Andrew P. Hill's stationery and a receipt for a $75 portrait he did in the early 20th century. Often commissioned to paint prized animals, Hill settled in San Jose during the 1860s. Andrew Hill High School is named after him. One particular photo in Artists for Hire shows Hill in his studio, buried among several paintings, floor to ceiling. His Bull's Head, an oil on canvas from 1880, represents one of his commissions, painted in excruciating detail.

Hill was also the main man behind saving California's redwoods, and a monument dedicated to him exists in Big Basin State Park. "He lost all his finances doing it," McKay explained, "but if it weren't for him, we wouldn't have the redwoods [today]."

Louis Lussier, whom Hill studied with, is also represented in the show, as he is widely considered to be one of California's finest portrait artists. He tag-teamed with Hill to paint a bold 1878 portrait of former San Jose Mayor Lawrence Archer, one that should be compared to Robert K. Semans' portrait of Mayor Tom McEnery, circa 1983. You see a vast difference in how mayors preferred to be portrayed. Semans, who still lives in San Jose, was recently commissioned to paint a 9-by-18-foot portrait of 14 Silicon Valley pioneers.

Marques Edwin Reitzel (1896-1963) started the art department at what was then called San Jose State College. Two of his landscapes are included in the show, one of a ranch near Pescadero and the other of Los Gatos.

Path in Los Gatos, 1941, by Clarkson Dye, was painted when Dye first moved to Los Gatos from San Francisco. It makes you want to search through Los Gatos today and try to find where this particular path runs.

Finally, no such art show would be complete without the inclusion of one notorious individual: Astley David Middleton Cooper, San Jose's legendary carouser who paid off his bar tabs with nude paintings. If only current bars were so inclined.

Unlike many of his contemporaries, Cooper regularly commanded big bucks for his paintings. According to the show's guidebook, Cooper sold The Story of Evil Spirits for $20,000 and Trilby for $62,000—both in the 1890s. He built a gargantuan Egyptian-style studio at the corner of 21st and San Antonio and was known for throwing huge, raucous parties. San Jose currently needs more artists like him. McKay explained that Cooper's work was either very fine or pretty erratic from time to time. "It depended a lot on how much he'd been drinking," he said.

Cooper's forte was painting settings of Native American life, and several such works appear as part of Artists for Hire. They depict the untamed wilderness often associated with the indigenous peoples.

Also featured is Cooper's portrait of Tiburcio Vasquez, the skillful bandit/Casanova who terrorized Central California during the post-Gold Rush era. Vasquez was hanged in San Jose on March 19, 1875. According to the guidebook, Cooper raised funds to defend him.

Courtesy of McKay, a photo of Cooper in his studio is included in Artists for Hire. "I've been collecting those photos for 30 or 40 years," he explained. "Where I got it originally, I don't know."
---
Artists for Hire: Painting for the Market in Santa Clara Valley runs through Jan. 8, 2005, at History San Jose, Kelley Park, 1650 Senter Rd., San Jose. Tuesday-Sunday noon-5pm. Admission is free weekdays, $4-$6 on weekends. (408.287.2290)
---
---
Send a letter to the editor about this story to letters@metronews.com.
---
[ Silicon Valley | Metroactive Home | Archives ]