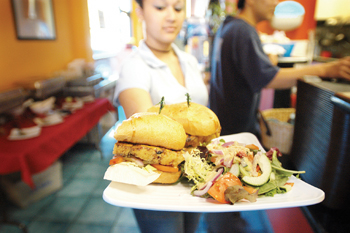 Photograph by Charlie Nucci

French Roll Rocks: The Lombok sandwich is one of the best things on the menu.

Fast, Cheap and Full of Soul

Is Malaysian the new Thai food? Lombok could start a trend.

By Stett Holbrook

'FAST CASUAL" restaurants don't usually make me very hungry. Fast casual is a decade-old term coined to describe restaurants a step above fast-food that offer a slightly more upscale menu and better atmosphere than your typical burger-and-fry establishment. Think Chili's or T.G.I. Friday's. They're easy on the wallet, often fun places to eat, but the food seldom rises above pretty good. Downtown San Jose's Lombok, however, breaks the fast casual mold.

The 18-month-old restaurant serves Indonesian, Malaysian and Thai food in a bright and inviting dining room and on a sunny patio. While not all the dishes I tried succeeded, owner Eke Adirebja has injected some soul and spice into the buttoned-down, Dockers-wearing fast-casual concept. At lunch, you walk up to the counter and place your order. There's also an all-you-can-eat lunch buffet for $6.99. At dinner, Lombok adds waiters to become a full-service restaurant.

I don't know whether it's an Indonesian-, Malaysian- or Thai-inspired dish, but the Lombok sandwich ($6.45 lunch, $7.50 dinner) is one of the best things on the menu. It has a lot in common with a Vietnamese bahn mi sandwich. The sandwiches are available with beef, chicken or tofu. I went for the beef. Thin slices of lemon-grass-perfumed meat are piled into a crusty sweet French roll and slathered with a rich and spicy peanut sauce. The addition of vinegar-marinated carrots and cucumbers and sprigs of cilantro counter the richness of the beef and peanut sauce and give it a lively snap. I could eat this five days a week.

Owner Adirebja is from Indonesia, and many of the dishes from his homeland shine. One of my favorites is the Indonesian chicken soup ($2.50 for one, $5.50 for three to four people). It's light and brothy and filled with large potato wedges, chunks of tender white chicken and glass noodles and topped with crispy fried shallots. While it was a bit on the chewy side, the lemon grass, garlic and shallot flavors of the beef satay ($6.45) kept me chewing happily. The peanut-chile sauce served alongside it is good enough to eat with a spoon. Less successful, however, was the shrimp satay ($7.75). I liked the sweet glaze, but the shrimp spent too much time on the grill and was dry and tough.

I also had trouble with the mackerel dumpling ($9.25). The crescent-shaped dumpling is about as big as a croissant and served fried or poached. I went for fried, but it was as a tough as a leather wallet and had an unpleasant fishy flavor. Maybe it's an acquired taste, but I haven't gotten it yet.

Overall, I found the Malaysian items best. Malaysian restaurants are popping up all over the Bay Area, and I think Malaysian food is poised to become the new Thai food. The cuisine is an amalgam of flavors that come from the South Asian country's ethnic diversity. India, China, Thailand and Portugal have all thrown ingredients and techniques into Malaysia's collective kitchen to create a genuinely multiethnic cuisine.

Tangy rendang beef ($6.45) is one of several "Lombok combos," dishes that allow you choose from six sauces and a choice of beef, chicken, pork, fish, shrimp or tofu. The rendang sauce has the aromatic, pleasantly bitter flavor of cinnamon spiked with garlic and tender carrots and onions.

Nasi lemak ($9.25) is a classic Malaysian sampler plate that combines rich coconut rice, shrimp paste-infused balacan chicken, pickled cucumbers and a fried hard-boiled egg. Shrimp paste is one of the signature flavors of Malaysian food. The salty, slightly funky, suggestively fishy flavor can come on a little strong at first, but it quickly hooked me.

I had high hopes for the Portuguese-influenced Malacca chicken ($6.45 half, $8.50 whole for lunch; $7.50 half, $9.50 whole for dinner), but it was too dried out to eat. Better is the moist and richer coconut milk-marinated grilled Lombok chicken ($6.45 half, $8.50 whole for lunch; $7.50 half, $9.50 whole for dinner).

Dessert at Lombok is gelato ($2.50). It's made by San Francisco ice cream maker Marco Polo and flavors include soursop, mango and, if you dare, durian.

In spite of some rough spots, Lombok has plenty to offer diners looking for an inexpensive, exotic yet familiar meal that breaks out of the mediocrity that has come to define fast casual restaurants.
---
Lombok
Address: 22 N. Almaden Ave., San Jose
Phone: 408.279.6037
Hours: 11am-9pm Mon-Thu, 11am-11pm Fri-Sat
Cuisine: Indonesian, Malaysian and Thai
Wine and beer
---
---
Send a letter to the editor about this story to letters@metronews.com.
---
[ Silicon Valley | Metroactive Home | Archives ]