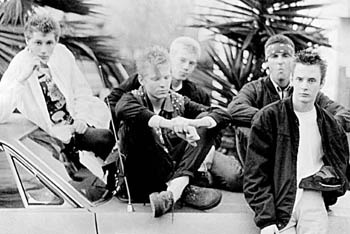 Exile on San Pedro Street: Original SJ punks Executioner reform for 'Lust for Life.'

Life Sentence

'Lust For Life' looks back at the San Jose punk scene, circa 1980-89

By Jim Harrington

IT WON'T look like the reunions in the movies. Fancy suits and blouses will give way to torn Black Flag T-shirts. Fancy footwear will consist of well-worn Vans, Doc Martins and Converse high-tops. And there might even be a Mohawk or two, although many of these thirty- and fortysomethings might now be sporting reverse Mohawks thanks to male pattern baldness.

But the feelings will be the same as with any regrouping of vets, varsity football jocks or a graduating class. The bond that unites was formed over machine-gun guitar riffs blasted through shabby P.A. systems in sweaty pre-mosh/slam-dance pits at rented old theaters across the South Bay.

"Lust for Life: A Reunion of the San Jose Punk Scene from 1980 to 1989" is the reason why nearly 300 former and current punks are scheduled to descend upon the South Bay this weekend. The cornerstone of the event will be two live shows on Friday and Saturday at the Blank Club. The lineup includes the Faction, Los Olvidados, Ribzy, Front Line, Executioner, Grim Reality and the Boneshavers. There will also be free barbecue with an exhibit featuring old photos and fliers open to the public at Hellyer Park on Saturday.

"It was innocent and exciting to be in a punk band back then because you felt part of an elite group that could only be understood by the people in the scene," says Faction guitarist and pro skateboarder Steve Caballero. "What we were trying to accomplish was to have fun and be creative with no help from the mainstream or the outside world of the music industry. We helped create a cool punk-rock music scene back in the day by supporting local music talent and also going to shows from out-of-town bands."

This event will be an eye-opener for the majority of music fans living in the Bay Area. San Jose has long operated in the musical shadow of San Francisco, Oakland and, to some degree, Santa Cruz. That's true now and it was certainly true in the '80s. Many people will be surprised to know that the City Below the Bay once had a major underground scene that produced some of the best local acts of the era.

"Lust for Life" is the brainchild of Joe Sib, a 1985 graduate of Westmont High School, who performed with Front Line during this era. Sib is now the owner of the successful Los Angeles-based indie label Sideonedummy Records. In 2002, he was returning home from a business trip to the Bay Area when the idea hit to bring all his old cohorts together. Sib called Larry Trujillo, a longtime friend who runs Zero Magazine and books bands at the Blank. In the '80s, Trujillo was known as a guy who could get things done, whether it meant renting a hall for a punk show or just keeping the cops cool with a bunch of spiky-haired grebos walking the streets of Campbell.

"Larry was the guy that you could count on and wasn't going to get wasted and wouldn't flake out," Sib recalls. "Larry could get the owners to give him the keys to the front door because he looked a little bit better than the rest of us. He took [putting on punk shows in San Jose] to the next level."

The first step was to get in touch with all the necessary people. In the case of "Lust for Life," that presented major problems. There was no yearbook to use as a master blueprint and no annual alumni newsletter in which to post an ad. Sib and Trujillo tracked down all the important players, regular plus-ones and loyal fans from a scene that peaked 20 years ago. Many of these local players had long since moved from the South Bay to different parts of the country and retired their punk gear for suits.

Sib and Trujillo set up a secret website for the event. As word of mouth spread, and links were emailed between friends, the website became the focal point. Names and contact information were collected and before long they had a list of nearly 200 folks that wanted to attend the event. The next step was lining up the bands. Some of these acts haven't played together in 20-plus years.

"It's going to be fun playing with all these guys I grew up with," Sib said of performing with Front Line. "I'm totally looking forward to it. It's funny looking back and listening to those old records. I listen to those lyrics and go, 'Whoa, I really was once 16.'"

Besides allowing people to reconnect and getting to hear some really great music, "Lust for Life" carries a weightier goal, and that's to bring more attention to this important time in local music history. There was no framework in place for hosting shows at the time. There were a few places that a punk band might land a gig—like the Laundry Works and Marsugi's—but kids had to build a show from the ground up. That meant renting a hall, borrowing gear, making fliers and carpooling to the venue.

"Up until that point it was like, 'Hey dude, San Jose, Bakersfield, Fresno—it's all the same.' But it wasn't," Sib says. "If you talk to Mike Ness [of Social Distortion] today he'd be like, 'Oh, yeah, dude, some of our best shows were in San Jose.'"

Trujillo, who pores through oodles of discs from young bands on a daily basis for both Zero and the Blank, says that there was a lot of talent to be found in San Jose in the '80s.

"It was really deep," he said. "You had a really good rockabilly scene. You had a really good punk scene. But getting exposed was a whole other matter. It was really hard for these people to get noticed."

The fact that so many of these bands stayed in San Jose, instead of heading for Los Angeles or San Francisco, is impressive. This small but passionate community would help build what would become a much larger downtown presence. "These weren't people who came in from other places. They were born and raised here," Trujillo said. "They set the groundwork for an alternative downtown scene that would later produce bands like Insolence."

Sib is proud to be a part of that early punk scene, and he's ready to celebrate this weekend. As the former front man for Wax and 22 Jacks, Sib has been involved in multiple music cities across the country, but what San Jose had was truly special. A punk could see a lot of familiar faces in the crowd, including fellow musicians who knew that if they attended someone else's show then they might return the favor. It was a truly cooperative spirit.

"I've never experienced that many people passionately involved in music and taking it to the point of life or death; that's what you lived for," he said.

"And it wasn't three kids. It was like 150 to 200 people. And I don't know if it has existed since."
---
Lust For Life: A Reunion of the San Jose Punk Scene From 1980 to 1989 takes over the Blank Club, 44 Almaden Ave, San Jose, Sept. 17-18. Ticket availability may be scarce; call the club at 408.29BLANK. A reunion barbecue will be held at Hellyer Park, 985 Hellyer Ave., San Jose, on Saturday afternoon with a photo and flier exhibition.
---
---
Send a letter to the editor about this story to letters@metronews.com.
---
[ Silicon Valley | Metroactive Home | Archives ]