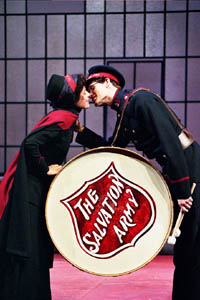 Photograph by Kevin Berne

Drum Boogie: Barbara (Stacy Ross) and Adolphus Cusins (Erik Singer) show some sin in 'Major Barbara.'

War and Salvation

Shaw tosses verbal bombs in 'Major Barbara' at San Jose Rep

By Marianne Messina

'THE MORE destructive war becomes, the more fascinating we find it," says Andrew Undershaft, the bomb-manufacturing patriarch of a somewhat pacifist family in George Bernard Shaw's Major Barbara. His daughter, Barbara (Stacy Ross), believes in peace, love and the God of the Salvation Army (in which she is a major). Her fiance, Adolphus Cusins (Erik Singer), wants to believe that a better world will come from encouraging humanity's better nature. As the family members one by one challenge Undershaft's war enterprises, he decimates their logic like a verbal ninja with this sort of realism blurred into cynicism.

In San Jose Repertory Theatre's first production of the season, Peter Van Norden gives Undershaft a wily charm—William F. Buckley's predatory relish for verbal sparring minus the air of Ivy League pretension, plus the robustness of someone who has clawed his way up from the poor side of town. It's easy to hang on his every quip, for he's a peach of an antihero. In one sally with Barbara, Undershaft argues that her charitable work suits the corporate world just fine. She finally declares she's winning hearts for heaven, and he quickly counters, "Good—not for unionism."

These ripostes often drew theater-as-political-rally bursts of applause from the audience the night I attended. Still, Ross' Barbara is no bleeding-heart cream puff; in some ways, she comes across as rather a spirited chip off the old block who, like Dad, enjoys the power of a good conquest, albeit with a touch more romantic obsession. Singer's Cusins is sufficiently geekish in his plastered hair, Salvation Army uniform phase, but as he sheds that ruse (donned mostly to win Barbara), he comes to sport a Hugh Grant charm in time to hold his own and haggle hardy with Barbara's father. A most impressive Glynis Bell plays both Lady Britomart (her hands are mesmeric) and Rummy Mitchens, stretching from the high brow to the low and back again. And, oh, for her black, gray and metallic—chained and silver-buttoned hint of military—dress (excellent work by props by costume designer Anna Oliver)!

In crossing "the pond" and a century, Shaw's play may have lost a little something: an easy audience for dry irony delivered in the King's English. So there's a temptation stronger than demon alcohol to overact. Except for a few hyperbolized gestures and son Stephen (Mark A. Phillips) sulking with great drama very early on in the play, this production resists temptation. Most of the large, 15-member cast ease into the tricky tenor of Shaw's humor—more often squirmy than thigh-slappy—and his demand for precision delivery. By the end of the play, we begin to see that Undershaft's appeal comes not from his pragmatism, but from his sense of vision. In the final scene, at Undershaft's factory, Stephen is smitten with admiration; Lady Britomart finds her own visionary powers inspired; and Van Norden's piercing glances into the audience bring us into collusion.

The Rep's production deploys all the theatrical elements in a grand scene change that bares these revelations. Stagehands in white safe suits conduct curtains to rise, ushering in small- and large-scale models of Undershaft's vision. Brassy intimidation from Gustav Holst's Mars captures the power of such a vision. As lights come up on a scale model of a planned community, Mars gives way to the soft-stringed Venus, perfectly imaging the play's themes. This brilliant collaboration by director Timothy Near, scenic designer Robert Mark Morgan, lighting designer Lap-Chi Chu and resident sound designer Jeff Mockus creates the multi-metaphored spectacle that good theater is all about.
---
Major Barbara, a San Jose Repertory Theatre production, plays through Oct. 3 at the Rep, 101 Paseo de San Antonio. Shows are Wednesday-Friday at 8pm (plus noon on Sept. 29), Saturday at 3 and 8pm and Sunday at 2 and 7pm (no 7pm show Oct. 3). Tickets are $22-$52. (408.367.7255)
---
---
Send a letter to the editor about this story to letters@metronews.com.
---
[ Silicon Valley | Metroactive Home | Archives ]