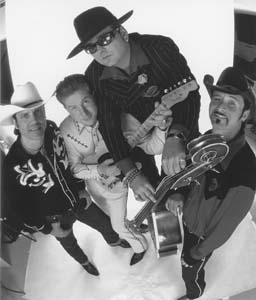 Coupe du Jour: Chicken Coupe DeVille brings roadhouse rock to the San Carlos Stage.





Livin' La Vida SoFA

Live music, dancing, art and excitement heat up the annual SoFA Festival

By Sarah Quelland

ALMOST SYNONYMOUS WITH local music, the SoFA Festival celebrates the diversity of downtown San Jose's South First Area (SoFA) through music and art. An alternative street fair meant to appeal to students, families and musicians within the local community, this year's blowout all-day block party features three outdoor stages supplying a constant flow of live music, theatrical performances and other entertainment, street performers, children's activities and innovative art exhibitions held at three separate galleries. Downtown clubs host some of the best local bands and DJs in town, and the requisite eats and treats of such a festive gathering will be available on every corner, with arts and crafts booths set up at every turn.

Proceeds from the 1999 SoFA Festival benefit ARIS, AIDS Resources & Information Services of Santa Clara County. Gary Walker, the mastermind behind the SoFA Festival since its beginning eight years ago, says, "It's always been an AIDS benefit and it always will be." Enthusiastically discussing this year's lineup, he gushes, "I'm very excited about the diversity of the music."

SoFA Schedule: A rundown of the lineup.

This year shows great promise with both new and familiar faces. Horchata, Jeffries Fan Club, Boy Kicks Girl, HBA, Outtaline, the New Mosquitos, the Odd Numbers, Insolence, Swerver, Curbside, True to Form, Sad Boy Sinister, Not Hot and Triple Seven all make return appearances. Newcomers include SECURITY, Stunt Monkey, Empty and Crash Landon.
The festival added a new feature this year with an opening-band contest. From among finalists that included Spitkiss, RetroMotive, the Recruits, the Buenas, Miss Puniverse and the Runners Up, 5606, Boxlunch, Lowrent, Mosca Blanca and Von Zipper, via an online ballot, the voting public chose Stunt Monkey and Tincture for the honor. Poppy-punk trio Stunt Monkey starts off the day on the San Carlos stage at 11am with its irrepressible sense of humor and campy stage antics (consider breakfast on them--or better yet, on you--as they toss out oodles of Hostess snacks and other goodies). Tincture opens on the Gore Park stage at the same time.
Chicken Coupe DeVille, which kicked off last year's SoFA on the San Carlos stage, closes out the day on that same stage at 5:45pm. Though the term rockabilly gets thrown about when referring to this four-piece band, its wild style is more like gritty roadhouse rock & roll with a swing-country kick souped up with a rockabilly twang. The band's known for its wildly colorful Western getups and scorching live performances. After its self-produced Twang Bang Deluxe, which was welcomed by the alt.country clique, Chicken Coupe DeVille recently spent some time in Nashville with top-shelf producer Ray Kennedy recording its follow-up, Drinkin' Songs and Smokin' Guitars, which delivers countrified beauties like "Ain't Above Lyin' " and "Screwed and Tattooed." Other swinging standouts in the day's lineup include Hot Town Jubilee at 1:30pm on the San Carlos stage and Connie Champagne and the Magnum Brutes at 2:45pm on the Gore Park stage.
When it comes to heavy-hitting metal and speedy punk, the Cactus Club is the place to be, and the only club for those under 21. Cactus' stellar lineup of local bands kicks off at noon with the trip-hop sounds of LSP. With the day organized into logical musical blocks, highlights include the dark, industrial metal band Spitkiss at 1:30pm, followed by the finely polished metal act True to Form at 2pm and the powerful, highly skilled metal-rap of SECURITY at 2:30pm, a coveted slot. Insolence and Salmon go back-to-back as the five-piece Insolence delivers its high-energy rap-rock at 3:30pm and Salmon comes on with its slap-funk rhythms and comic rap at 4pm. Performances at Cactus run the latest of any club, with bands going full blast until 9pm, when veteran rock & roll trio Swerver takes the stage.
No SoFA Festival would be complete without the Odd Numbers/New Mosquitos/Not Hot crew. The Odd Numbers go on at the Cactus at 5pm, immediately followed by the New Mosquitos. Not Hot closes out the night at the Usual at 7pm.
One of the hottest bands on the Usual's bill is Southern California's Flogging Molly, a raucous band of Guinness-swilling hooligans who deliver rowdy rock & roll with heady Irish influences. The saucy seven-piece troupe incorporates fiddle, accordion and mandolin into a rip-roaring sound that brings out the jig in everyone.
Los Mocosos are another highlight of the day. Fresh off a stint with the Watcha Tour (a.k.a. the Latin Warped Tour), this rocking seven-piece Latin groove band performs on the San Carlos stage at 2:45pm. Reggae lovers can catch Dub Nation at the Agenda Lounge at 4:30pm.
[ San Jose | Metroactive Central | Archives ]