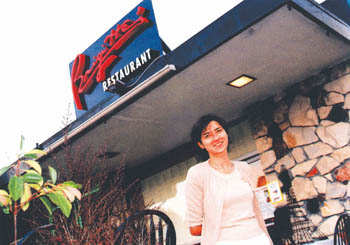 Photograph by Chris Revell

Eiffel Mall: Brigitte wears many berets, and her menu looks good in all of them.

Paris Match

Classic French cooking in a strip mall? Voilà Brigitte's.

By Joseph Izzo Jr.

CALL IT intuition, but I immediately knew that Brigitte's was special. Just three steps inside was all it took to convince me. OK, I admit I may have been swayed by the sweet stereo strains of the incomparable Edith Piaf, one of my favorite cabaret singers, but the food proved me right.

Not since Paris have I tasted such simple French cooking. Flavors were developed with expert touches that echoed off the plates. The ebony wine sauce on our flank steak shimmered like a mirror reflecting our faces and the posters of French destinations on the walls behind us.

Once the home of Papa Rick's, Brigitte's slips into these tight quarters across from the Pruneridge golf course like a delicate foot in a satin slipper. Mindful interior planning has rendered this space full of warmth and intimacy where couples can enjoy long dinners at linen-covered tables amid soft saffron-colored walls.

Brigitte is the real deal. She hails from Paris and speaks with an accent that lilts through the dining room. A hard worker, she wears many hats. I watched her greet guests, serve food, clear tables and discourse knowledgeably about French cuisine and wine. She never slows down, just moves on to the next thing with unfaltering endurance. On certain days, she told us, she throws special wine parties where food and wine are meticulously matched.

Although it seems like a contradiction in terms, Brigitte's menu proclaims her food to be a "gourmet and healthy cuisine." Usually, the word "healthy" on any menu is a caveat to possible shenanigans. But what this restaurant does so well is to serve good fresh products in seasonal displays with less-than-heavy sauces. Portions are aesthetically pleasing to the eye and delightfully composed (but never stingy).

Brigitte embraces the importance of freshness and quality and serves it up with both hands wide open. We started with a round of appetizers, the most colorful of which was a beet vegetable carpaccio ($8.25), composed of thin-sliced red and gold beets finished with English peas, celery leaves, summer truffle and truffle oil. In addition, we had velvet foie gras terrine with sweet figs and walnuts ($15) that dissolved in the mouth in lush, ethereal layers. The third combined sweet heirloom tomatoes ($7.50) with young frisée in a light balsamic reduction.

Both fish selections arrived in boat-fresh condition cut in thick boneless wedges. The pan-roasted halibut ($19) was served over braised minced leeks, greens and drizzled with virgin olive oil and lemon. The grilled Atlantic salmon ($20) won our affections with its moist pink meat underscored with braised fennel, aged bacon, seared snap peas and confit of roma tomato--slow roasted and delicious.

Slices of oven-roasted pork tenderloin ($19) draped a glossy pool of natural juices, flanked by crispy polenta, my favorite kalamata olives, sun-dried tomatoes and seasonal vegetables. One of my companions camped protectively over a beautiful piece of hearty grilled flank steak ($19) with caramelized shallots in a wine sauce full of sanguine properties.

I could have tasted all the desserts listed on the menu but settled on two: the chocolate Moelleux with vanilla-bean ice cream ($6.50 regular; $3.95 petite) and the exotic nougat ($6.50 regular; $3.95 petite) with pineapple, coconut and peach frozen in a rich, snowy meringue.

Walking out of Brigitte's that night, through the elongated shadows of the big trees across the street, I felt a rush of hope and optimism. All that good food nestled comfortably in my belly made me feel so much better. As the doors closed behind us, I could still hear the voice of Brigitte floating through the atmosphere, her resonant tones in harmony with the Edith Piaf song that was just fading out.
---
Brigitte's
Address: 351 Saratoga Ave., Santa Clara
Phone: 408.404.7043
Hours: 11:30am-9:30pm Tue-Sat
Price Range: $3.95-$23
Cuisine: Healthy French
---
---
Send a letter to the editor about this story to letters@metronews.com.
---
[ Silicon Valley | Metroactive Home | Archives ]