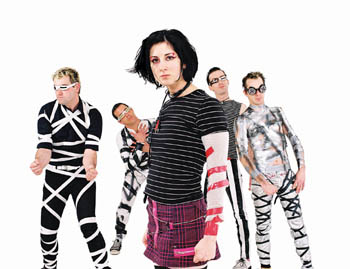 Photograph courtesy of www.theepoxies.com

New Wave Rider: Let the Epoxies pogo into your heart.

An Epoxy Upon Thee

The Epoxies brings its music to the masses with carefully uncontrolled chaos

By Michael Alan Goldberg

SOMEWHERE in the deep, dark recesses of the Pacific Northwest (OK, Portland), there lies a basement where five space aliens concoct Dr. Frankenstein-ian assemblages of punk-rock fierceness, power-pop hooks, electro-synth art and sci-fi freakiness. Too gritty and brazen to be classified simply as a retro '80s band, too goofy and self-effacing to be lumped in with any of today's megapretentious "nü" scenes and too skillful as players and songwriters to be written off as sheer novelty, the Epoxies have carved out a unique little niche for themselves while echoing such touchstones du jour as X-Ray Spex, Devo, the Cars and Blondie.

And when the quintet brings its music to the masses, it's like witnessing a spastic Broadway production of Buck Rogers in the 25th Century crammed onto the stage of a dank little club. Glow-in-the-dark, thrift-store-futuristic outfits crafted from duct tape and striped shirts, billowing fog, arena-worthy lights, grand mal-inducing strobes, funky plastic visor shades and a fabulous bubble machine that even Ozzy Osbourne would approve of are just part of the band's ever-growing arsenal of accouterments.

This kind of audiovisual spectacle couldn't be pulled off by folks named Chad, Amy or Julian, which is why the Epoxies lineup is composed of Roxy Epoxy on vocals, Fritz M. Static on keyboards/vocals, Viz Spectrum on guitar, Shock Diode on bass and Dr. Grip on drums. Renowned for its hyperkinetic stage presence--especially ever-flouncing, born-to-be-a-frontwoman Roxy, who leaps and pogos as if the floor below her is on fire--the quintet, Static says, is emboldened by their alter egos, outlandish get-ups, and multitudinous props.

"I'll tell you one of the secrets of our show: All the smoke and lights in our face make it really hard to see the crowd, plus we're wearing dumb sunglasses for the most part, and that totally helps me rock out. I can see the first two or three rows, which is usually where the most appreciative people are, but if everyone else behind them is standing with their arms crossed and talking shit about us, it doesn't matter, because I can't tell, so I can pretend I'm in Cheap Trick and go nuts!

"It's good to have everything set up so nothing goes wrong, but if it does, you have to be able not to freak out. And that element of chaos is actually really nice. Yeah, it's a bummer when your amp breaks, but it could be great if a lighting rig falls off the ceiling and explodes onstage! Those are the most memorable moments."

The Epoxies have accumulated a ton of memorable moments since forming just three years ago. The buzz surrounding their live extravaganzas quickly evolved into packed-out shows every time they'd play Portland or Seattle, which led to the near-instant regional success of their first 7-inch single and self-titled 2002 debut CD (both on Dirtnap Records). That encouraged the band to take it nationwide, where three lengthy U.S. tours have garnered glowing reviews and a steadily multiplying fan base.

"The whole thing feels like it's been about three months and 10 years at the same time," Static says with a laugh. "It's kinda like a huge blur. But at the same time, we're really tired. We've been working really hard."

The effort has paid off with lots of sold-out gigs during their current tour, but the Epoxies take nothing for granted. The days of doing shows for fifty bucks on the floor of some bar that didn't really want them there, or opening a seven-band bill at 8 at night, may be in the rear-view mirror, but they're not that far behind.

"You have to go into the whole thing with the attitude that no one owes you anything," Static says. "There's a good possibility that we'll show up somewhere, and there'll be only 15 people there. But we'll still set up our crazy lights and go completely ballistic onstage."
---
The Epoxies, the Briefs and the Shocks perform Sept. 26 at the Blank Club, 44 S. Almaden Ave., San Jose. Tickets are $7; doors open at 9pm. (408.29BLANK)
---
---
Send a letter to the editor about this story to letters@metronews.com.
---
[ Silicon Valley | Metroactive Home | Archives ]