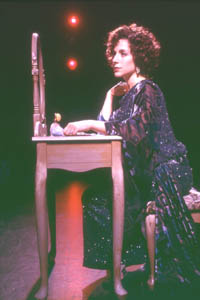 Photograph by David Allen

Fanny Girl: Rachel Ulanet shines as comedian Fanny Brice.

The Brice Is Right

American Musical Theatre of San Jose keeps 'Funny Girl' fresh

By Rob Pratt

MOST PEOPLE expect Hollywood to distort the lives and circumstances of real-life figures when those stories are translated to the screen. The tradition of rewriting history for dramatic effect is even stronger in theater, dating at least as far back as Shakespeare. So it's no surprise that the hit Broadway musical Funny Girl, now running at the San Jose Center for the Performing Arts, is only loosely based on the life of its central figure, groundbreaking comedian Fanny Brice. But with such a great show, who cares?

American Musical Theater of San Jose has managed to take a musical that combined a dynamite first half and lackluster second half at its 1964 Broadway premiere and turn it into a satisfying whole. A wonderful score by the legendary Jule Styne, which evokes the Jazz Age but still sounds fresh, has kept the show from falling into obscurity. AMTSJ's classy production makes a strong case that Funny Girl, which tells an only-in-America story of an ugly duckling who transformed herself into a swan, should rank among the best-loved works for musical theater.

As a Fanny full of contrasts--big, brassy and sure onstage but insecure in romance--Rachel Ulanet makes a triumphant debut with AMTSJ. Her role, which made Barbra Streisand famous, calls for both razor-sharp comic timing and a voice equal to half a dozen truly big songs. Ulanet does it all--and a number of funny, rubber-limbed dance steps in addition--with self-effacing grace.

In a wonderfully strong cast, Ulnet is joined by Kevin Gray as Fanny's troubled husband, Nick Arnstein. Arnstein is a rather unsavory and unsympathetic character; though charming, he's a gambler whose fortunes swing from flush to busted, and yet somehow this worldly man falls in love with the earthy Fanny. Even great actors (notably Omar Sharif in the movie version of Funny Girl) have struggled to pull off such an unlikely attraction. Gray does it with warmhearted charm and a winning voice.

Isobel Lennart's book provides a number of great opportunities for supporting players, and the AMTSJ cast takes full advantage. As Eddie Ryan, Fanny's longtime dance director and friend, Brad Bradley never misses a beat--or a dance step. Also particularly fine are Mary Ellen Ashley as Fanny's sharp-tongued mother and Diana Torres-Koss as the prying neighborhood gossip, Mrs. Strakosh.

Funny Girl is a backstage musical, and scenic designer Michael Hotopp elegantly highlights the theme with a gorgeous set within a set. The show opens behind the curtain in a theater, and as the drama unfolds in flashback, Hotopp's sets glide in and out of the backstage frame as if Fanny looks back on her life as so many staged scenes. Along the way, Hotopp presents a number of great-looking spaces--Mrs. Brice's saloon, a restaurant's private dining room, a train station--as well as providing eye-popping backdrops for big song-and-dance numbers.
---
Funny Girl, an American Musical Theater of San Jose production, plays Wednesdays at 2 (except Sept. 17) and 8pm, Thursdays-Fridays at 8pm, Saturdays at 2 and 8pm and Sundays at 1 and 6:30pm (except Sept. 28) at the San Jose Center for the Performing Arts, 225 Almaden Blvd., San Jose. Tickets are $44.50-$75.50. (888.455.7469; www.amtsj.org)
---
---
Send a letter to the editor about this story to letters@metronews.com.
---
[ Silicon Valley | Metroactive Home | Archives ]