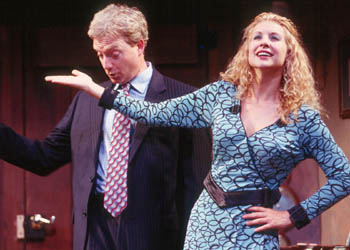 Photograph by Tom Chargin

Farce From the Madding Crowd: Ben Livingston and Jamie Day act up a storm in 'Noises off.'

Sound Comedy

'Noises Off' turns on the laughs at San Jose Rep

By Marianne Messina

BRITISH PLAYWRIGHT Michael Frayn did write a hilarious play in Noises Off; there's no getting around it, which explains why so many theater companies have braved the play's prodigious staging demands to perform it over the last 20 years. Countless props change hands continuously, and six doors on two levels require more entrance cues than a symphony. A recent performance at San Jose Repertory Theatre proved to be a paragon of timing (check the ensemble footwork in Act 1's "Where's my contact lens?" sequence).

But timing isn't everything. In Act 1, a bottom-drawer theater company runs through its last-minute dress rehearsal of a middling play called Nothing On. Except for a couple of good gags, a somnolent smile suffices to get you through this act, partly because Frayn's script treads a little water as it sets up the gags for Act 2. The other factor is the overacting (even by parody standards) of clichés that need to be restrained to maintain their freshness. The telegraphing gestures of blonde, half-dressed bimbo Brooke Ashton (vacuous posturing by Jamie Day) grow too familiar. Leading man Garry Lejeune (Ben Livingston) repeatedly finishes his thoughts with "you know ..." a bit too conspicuously. None of these minor overstatements make the action unfunny--only less funny.

On the plus side, Jane Carr as leading lady Dotty Otley is so lovable you'll want to pack her up and take her home. And for the most part, Livingston's smooth though transparent Garry, along with Maura Vincent's ever-cool Belinda Blair, bring a breath of fresh air to the dense atmosphere of caricature and hyperbole. Livingston should also get kudos for that nasty-looking fall down the staircase in a later scene.

But by the second act, both the comedy and the genius of the play become obvious. The action shifts to a Nothing On production one month into its tour. At this point, tension from the entangling liaisons and jealousies among the cast have escalated. A nice synergy between John Iacovelli's clever set, York Kennedy's lighting design and Jeff Mockus' sound design heightens the sense of watching the Nothing On production from backstage through a window of the set--what we can see of the actors is spotlighted, their voices sound distant, and whenever the doors to the stage open, we glimpse a bright row of footlights though the doorway.

While the first act of Nothing On is reprised in the distance, we also watch the characters backstage conduct their own counterfarce "between the lines." They carry on arguments and launch threats in silence or pantomime ("noises off") to the beat of their stage entrances and exits. The effect is like a brilliant fugue that recontextualizes one melody by surrounding it with parallel melodies. Only a very tight production can make everything click, and the performance I saw was tight, from synchronized pass-offs to multilevel sight gags. The audience roared through the entire second act and on into the third--set front stage again. As the inner play sinks amid frantic extemporizing, misplaced props and missing actors (apparently waylaid backstage), the outer play peaks with aching sides.
---
Noises Off, a San Jose Repertory Theatre production, plays Wednesday at 8pm (plus noon Oct. 1), Thursday-Friday at 8pm, Saturday at 3 and 8pm and Sunday at 2 and 7pm (2pm only Oct. 5) through Oct. 5 at the Rep, 101 Paseo de San Antonio, San Jose. Tickets are $18-$52. (408.367.7255)
---
---
Send a letter to the editor about this story to letters@metronews.com.
---
[ Silicon Valley | Metroactive Home | Archives ]