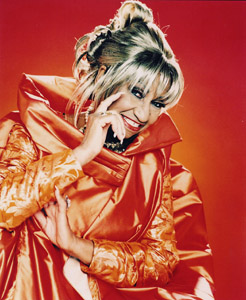 Hot in here: Celia Cruz flashes a diamond smile.

All Hail the Queen

Salsa veteran Celia Cruz still commands respect

By Jesse 'Chuy' Varela

WHEN CELIA Cruz arrives at Villa Montalvo in Saratoga this Saturday, the undisputed Queen of Salsa could be a multiple Latin Grammy winner. Nominated in four categories at this week's award presentation in Los Angeles, the 77-year-old Cuban singer won a Latin Grammy in 2000 and was scheduled to appear last year when the event was canceled as a result of 9/11.

This year, she's up for Album of the Year, Record of the Year, Best Salsa Album and Best Music Video with the song "La Negra Tiene Tumbao." The tune is a Latin techno-mix by producers Fernando Osorio and Sergio George that talks about a girl with a jiggle in her walk. Celia's gritty tenor voice moralizes about being true and avoiding pitfalls, with thumping drum machines and percussion samples backing her.

Perhaps it's a personal formula, but in her 60 years of performing Cruz has chosen songs with deep grooves that say something about life, love and spirit. With smatterings of her trademark phrase "azucar" (sugar) all over "La Negra Tiene Tumbao," the song shows how smoothly she's transitioned from the salsa ballroom to the disco dance hall.

During the mid-'50s, she recorded a string of hits ("Yerbero Moderno," "Burundanga") with La Sonora Matancera. During this time she met and married Pedro Knight, a trumpet player with the orchestra, who continues as her manager and spiritual "guru."

They headed for New York City, where she witnessed the heyday of the Palladium Ballroom. The salsa music hot spot became her home in 1960 when she exiled herself to the United States following the Cuban Revolution. Signing with newly formed Tico Records, she began an almost decade-long association with bandleader Tito Puente.

"I made eight albums with Tito Puente during that time on the Tico label that went nowhere," she recalls. Nobody was promoting them, so I spoke to the owner [Morris Levy] of the company to release my contract. He was losing money, and I was losing prestige."

As soon as she left, salsa-music entrepreneur Jerry Masucci and flutist Johnny Pacheco tried to sign her on their fledgling Fania Records label. She agreed to record with Pacheco but refused to sign a long-term contract until she saw how the record was handled. The album, Celia y Johnny, became one of the biggest-selling salsa records of all time.

"It was the term 'salsa' that made this music take off in popularity. It made it more accessible to people who didn't know what a guaracha, guaguanco and the other rhythms were," she says. Her over-the-top performances during the salsa boom of the 1970s solidified her reputation as the "Queen."

The demise of Fania took her through an uncertain period until her signing with RMM Records in the early 1980s. Her appearance in the movie The Mambo Kings added further spark to her career. Most recently, she has upped her hip quotient by appearing with Los Fabuloso Cadillacs and Wyclef Jean. Celia's midrange tenor voice sounds like it's been aged by cigars and rum. With a slight rasp, the bell-like clarity of her youth has been whittled away, not by vices but by thousands of performances around the world. The articulation and improvisational wit, though, are still there and fill her songs with imagination, glee and contagious enthusiasm.

Now she is one of the most celebrated stars in Latino show business, and whatever she wins this week at the Latin Grammys will join a closet already full of awards.

"All the awards I've received have left an impression," she says. "The one award that took the longest was getting a star on the Hollywood Walk of Fame. It was [because] countless everyday people wrote requesting I get a star that did it. That's why I've always said, 'This isn't Celia's star; it's a star for my fans.'"
---
Celia Cruz performs Saturday (Sept. 21) at 4pm at the Villa Montalvo Front Lawn, 15400 Montalvo Rd., Saratoga. Tickets are $42/$52 and available through Ticketmaster. (408.961.5800)
---
---
Send a letter to the editor about this story to letters@metronews.com.
---
[ Silicon Valley | Metroactive Home | Archives ]