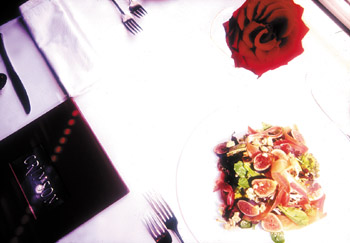 Photograph by Troy Bayless

Old World charm: Crimson's American-eclectic cuisine features an eye to presentation and proportion.

Crimson in Clover

Los Gatos' new bistro takes a modern approach to rustic fare

By Aaron Robinson

CRIMSON, a new bistro-style restaurant in Los Gatos, is a recent venture for Diane Rose, the former executive chef and co-owner of the Cal-Ital trattoria chain Mio Vicino. Adorned with Old World charm, Crimson features American-eclectic cuisine that aims to be more upscale than its trattoria forerunner.

Navigating our way to the restaurant was easier than I anticipated, considering its size and location (nestled among dissimilar businesses in the Los Gatos Village Square). We arrived to a welcome of genuine smiles and were gracefully seated at a table by the window overlooking Crimson's attractive outdoor patio.

Our hyperefficient, well-informed server approached us and described the specials of the evening in delectable detail. He suggested refreshment from Crimson's limited beer and wine list, which consisted mainly of Santa Cruz, Monterey and Carmel Valley standards. Two glasses of the Au Bon Climat Pinot Gris ($6.25) were delivered, followed by soft, room-temperature ciabatta and bread sticks with a savory garlic whipped butter.

We began to peruse Crimson's beautifully read menu. Stilton and sage-stuffed portobello cap with grilled polenta, Marsala cream and pine nuts ($9), truffled beet salad with frisée chop, snap peas, caciotta dei boschi and white truffle oil ($10), and Chilean sea bass in coconut milk and chile marinade over braised bok choy and soba noodles ($25) were just a few of Crimson's mouth-watering enticements.

Finally, we agreed on a first course: crab, white corn and asparagus soup ($7). The magical combination of shredded crab, diced asparagus and whole corn kernels offered a robust alternative to your conventional garnished purée, but the dish was too salty. Our second starter was the seared ahi salad with broccoli stem slaw, mung-bean sprouts, edamame and ginger-sesame dressing ($14). The ahi was peppered and seared to perfection, but the dressing was bland and oily with little to no hint of ginger.

Before embarking on our eagerly anticipated entrees, we felt obligated to investigate the appetizer list further. The seared foie gras with sea scallop and caramelized onion-citrus reduction ($16) sounded promising. Again, the foie gras and scallops were properly seared to temperature, but the marshlike presentation made the caramelized onion-citrus reduction look oily and unappetizing. My palate agreed. The only contrasting texture was the frisée in the middle of the plate acting as a sponge.

Seconds after the foie gras was cleared, our entrees arrived. I was presented with an intimidating portion of the braised pork ($20) with lingonberry-pinot noir reduction, roasted potatoes and organic vegetables consisting of Swiss chard, roasted red beets and overcooked asparagus. The pork was fork-tender and delicious. The aromatic lingonberries gave the sauce an unobtrusive tart fruitiness, yielding an essence of clove. The roasted potatoes were crunchy and herbaceous. I felt the dish really come together as I sipped the David Bruce Pinot Noir ($11.25).

My companion had the highly recommended pan-seared grouper special ($25), paired with the Spottswoode Sauvignon Blanc ($12). The grouper was wrapped in jamon-serrano and served over a black-eyed pea relish--the most well presented and proportioned of any dish we had received so far. The composition of moist, delicate fish contrasting slightly salty, crisp Spanish ham and rich, earthy black-eyed pea relish pledged Crimson's potential.

Sated, we nevertheless could not resist the dessert menu. We selected the Fondue for Two, a ceramic pot full of lukewarm dark chocolate atop a little candle with quartered strawberries and Rice Krispy treats. I would have appreciated a greater variety of dipping confections, but it was a pleasant concept.

Those who appreciate large portions of rustic, simple fare and don't mind paying lavish prices may enjoy what Crimson has to offer. Though I felt the meal was fraught with possibility, I left with my expectations unfulfilled.
---
Crimson Restaurant
Address: 15466 Los Gatos Blvd., Los Gatos
Phone: 408.358.0175
Hours: Lunch 11:30am-2:30pm Tue-Fri, dinner from 5pm Tue-Sat
Price Range: Small plates $4-$16, entrees $14-$25
---
---
Send a letter to the editor about this story to letters@metronews.com.
---
[ Silicon Valley | Metroactive Home | Archives ]