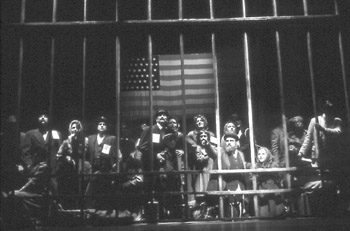 Photograph by David Allen

Huddled Masses: Ellis Island is the first step to America for the immigrants in 'Ragtime.'

American Rag

'Ragtime' rejuvenates American history

By Heather Zimmerman

IT'S NOT OFTEN you hear the words "epic" and "musical" uttered in the same sentence--and that's not really a bad thing--but with its sweeping journey through turn-of-the-20th-century America, Ragtime qualifies as a great modern odyssey indeed. TheatreWorks presents an excellent production of this sweet and sour reminiscence of America 100 years ago.

Based on the novel of the same name by E.L. Doctorow, Ragtime, with book by Terrence McNally, music by Steven Flaherty and lyrics by Lynn Ahrens, features a multilayered story that incorporates some real people and historical events. Everyone from Harry Houdini to anarchist Emma Goldman makes an appearance and, sometimes, makes a mark on a story that follows the intertwining lives of three American families--African American, wealthy Anglo and newly arrived Jewish immigrant--as they pursue their own "American dreams" in New York City during the early 1900s.

Ragtime makes a particular point of exploring America's early-20th-century growing pains, in particular those relating to labor, immigration, social justice and equality--or the lack thereof. The musical uses the rise of ragtime music and a handful of other emerging art forms--from filmmaking to vaudeville--to act as both harbingers and bringers of social change. These new cultural forces spur seemingly disparate characters to cross paths. Two such characters who strike up a tenuous friendship are Coalhouse Walker (C. Mingo Long), head of the African American family, and Mother (Alice Vienneau), mom to the Anglo family. Long and Vienneau offer true standout performances in two of the show's most dynamic and demanding roles. April Armstrong is also very moving as Sarah, Coalhouse's love.

Of course, as in any grand-scale musical, there are chorus numbers aplenty, and none of these song-and-dance spectaculars disappoint. The company hits a high note early on with the uplifting opening number, "Ragtime," but just as capably portrays the dark drama of one of the show's turning points with "Coalhouse Demands." Choreographer Christopher Windom conjures up movements that beautifully convey the show's every mood--and there are a lot of them. Director Robert Kelley always strikes the right balance between Ragtime's considerable tension and tragedy and the hopeful spirit that each song, even those angry or despairing, seems to subtly reveal.

A busy but appealing set design by J.B Wilson evokes both nostalgia and the forward momentum of an era that saw so many major technological advances. Perhaps too evocative of the age, however, is the sound, which, with a stage full of actors bristling with microphones, calls to mind an old Victrola--the actors often sound as if they were speaking or singing from inside a box. In a way, it just goes to prove that technology brings problems inherent to its improvements; an idea that, actually, in some respect, all the characters must grapple with. And that's just one of the ways the play seems to suggest that a century on, the United States still struggles with the legacy of its phenomenal growth. But Ragtime also celebrates aspects of such a legacy, in particular, the fact that the "American" identity remains as uniquely multifaceted, multiethnic, multicultural as ever--an as-yet-timeless truth that also seems a timely thing to celebrate.
---
Ragtime plays at Wednesday-Saturday at 8pm and Sunday at 2pm through Sept. 29 at the Mountain View Center for the Performing Arts, 500 Castro St., Mountain View. Tickets are $20-$45. (650.903.6000)
---
---
Send a letter to the editor about this story to letters@metronews.com.
---
[ Silicon Valley | Metroactive Home | Archives ]