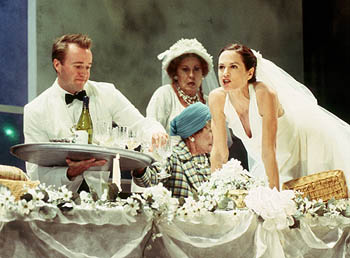 Veiled Threat: Hester Swane (Holly Hunter) crashes a wedding reception she feels should have rightfully been her own.

Feline Fury

Holly Hunter exerts a powerful magnetism in 'By the Bog of Cats ... '

By Heather Zimmerman

ONE NEED look no further than Oedipus Rex to know that when it came to drama the ancient Greeks had dysfunctional families down pat. Irish playwright Marina Carr used Medea as the foundation of her new play, By the Bog of Cats ... , no doubt that's why the play's central conflict, a small-town family feud, so quickly takes on an epic aspect. San José Repertory Theatre opens its season with the intense drama, with Holly Hunter well cast as Hester Swane, the woman who's the focus of the bitter feelings.

Whereas Greek tragedies often were meant to put forth universal ideas and cautionary tales, Carr has created a contemporary tragedy of very personal dimensions. By the Bog of Cats ... touches on many ideas: a clash between nature and "civilization," class conflict and gender issues, but more than anything, the play offers a mournful folk tale about a small village in the Irish midlands, near a swamp called the Bog of Cats. A Traveller (one of a Gypsylike people), Swane has defied her nomadic heritage and stayed near the Bog of Cats since childhood, having settled with a local man, Carthage Kilbride (Gordon MacDonald), and had a child with him, Josie (Jillian Lee Wheeler), now 7. But Carthage has left Hester to marry Caroline Cassidy (Gretchen Cleevely), the daughter of a wealthy farmer. Compounding Hester's heartbreak, Carthage plans to move his new bride into Hester's house and most likely take custody of Josie. But Hester is having none of it.

Hunter's Hester, as she admits several times, has an edge that scares even her, but she also exerts a powerful magnetism. In other hands, Hester could have seemed merely selfish and self-destructive, but Hunter slowly unveils layers of hurt beneath Hester's defiance. She makes it plain that the method to Hester's madness in later scenes is a heart broken long before Carthage arrived.

Timothy Near directs an outstanding cast who make all of the characters absolutely real. In particular, Carol Mayo Jenkins delivers a brilliant, darkly comic turn as Carthage's domineering mum and Joan MacIntosh impresses as the almost otherworldly medicine woman, Catwoman. Cleevely's Caroline inspires uncommon sympathy as an innocent caught in the middle.

The play thrives on naturalistic imagery, so Carr's many hints at incest, perhaps rampant in this very small town, almost seem at odds with such an "Earth Mother" sensibility. And yet Carr clearly takes pains to assert that parent-child bonds can sometimes poison as much as they nurture. At times, Carr supplies too many vaguely sinister inferences; although a sense that all may never be revealed is fitting for this morass of high emotion and dark secrets, it can also be alienating. However, by the same token, with this dream cast, By the Bog of Cats ... updates the Greek tragedy by personalizing it, and in a way also preserves a piece of Traveller culture by spinning a spectacular yarn no one who sees it will soon forget.
---
By the Bog of Cats plays Tuesday-Friday at 8pm, Saturday at 3 and 8pm, Sunday at 2 and 7pm through Oct. 7 at the San José Repertory Theatre, 101 Paseo de San Antonio, San Jose. Tickets are $20-$44. (408.367.7255)
---
[ San Jose | Metroactive Central | Archives ]