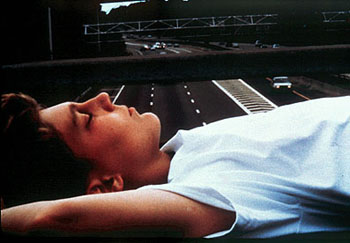 A Little Rest: Howie (Paul Franklin Dano) contemplates the world's thruways.

In the Fast Lane

Innocence is lost; no U-turns allowed

By Richard von Busack

IT'S THE BIGGEST lie in the world, as the anti-joke goes about the Long Island Expressway--the highway that took out singer Harry Chapin, director Alan Pakula and the mom of the hero of the film L.I.E.

L.I.E. is often a truthful film, and it deserves some celebration for its bravery. During the first half-hour, though, you can be suspicious, when it opens into a too-typical portrait of teen misery. It's narrated poorly at the opening, with some fake Holden Caulfield lines spelling out the situation. Howie (Paul Franklin Dano), 15 going on 16, is perched on the overpass, perhaps ready to jump into traffic.

This sensitive boy from the rich suburbs near Dix Hills seems to have few connections. Howie lives with his father, a crooked building contractor about to be scooped up by the law. The father is blind to his son's problems and is currently into a lot of noisy, casual sex.

Though Howie's a bright student, his friends are young dummies who talk a lot of speculative trash about girls. His best friend, Gary (Billy Kay), is a punk, a rough delinquent kid with a tattooed neck. (Howie's father complains, "Your friend smiles too much.")

Gary and Howie have a serious but unspoken crush on each other, which is expressed through a lot of rough-housing--the extinct slang for it is "playing grab-ass." They're planning to run away to California; meanwhile their favorite sport--petty burglary--has got them into serious trouble. When Gary bails out of Long Island suddenly, Howie's left holding the bag for one of their crimes. Their last victim tracks Howie down: he's Big John Harrigan, a retired military intelligence officer, played by Brian Cox.

Harrigan is 55, a bachelor, and a serious chicken-hawk. He rents teenage boys and--the film tiptoes a little on this subject--is perhaps a pimp. Big John is one of those brash Irish-Americans with a solitary, melancholy streak, hidden under a lot of superficial good-fellowship. There have been times when I've thought of Cox as a petty version of Albert Finney, but this was an underestimation. Occasionally, he's come up with performances that made one sit up and watch--such as his original edition of Dr. Hannibal Lecter in the Michael Mann film Manhunter. Big John is another such job.

Big John is a hearty bastard, seen grousing happily at his 55th birthday party, or amusing himself later one drunken night, singing "Harrigan" in imitation of Jimmy Cagney's stilted vocals in Yankee Doodle Dandy. He lurks in his big cavelike house, shades drawn, where he sometimes receives his male guests. He's not hiding, though; he has a trick doorbell that blasts a cranked-up tape recording of "The Marine's Hymn." His license plate has "BJ" on it--and he likes to boast that he gives the best head in town. With his huge, crooked and crumbling smile, he's not a hypocrite.

L.I.E. leaves the cops out of the story of a chicken-hawk, which gives the theme a new direction. Scriptwriter Stephen M. Ryder is an ex-policeman, wise to the fact that some people are considered citizens above suspicion when they're close enough to the force. Big John has some friends and relations in the local police, and that's the reason why his taste for boys has never been discovered.

L.I.E. is at its most mature when it suggests that Big John awakens an answering voice in Howie. The kid appreciates his sudden power to tease, without really understanding what he's playing at. And John is one of the few people who understand Howie's intelligence; they both speak the same language. Big John knows his Whitman (the poet had a house nearby, in central Long Island); no one else, not even Gary, had really figured out that Howie may be gay.

COX'S BRAVERY in his unapologetic performance is unfortunately betrayed by director Michael Cuesta's cold feet. Cox brings out the sadness of a boy-lover so eloquently that it's a waste of words to have a character tell Big John, "You should be ashamed of yourself." (Somehow--I wonder how--movie fans of the past got the idea that Dracula was evil without someone telling the count he should be ashamed of himself.)

When Big John decides to show Howie a little porn, Cuesta makes sure it's grainy, black-and-white stuff, apparently 100 years old, so the audience knows exactly how to respond: with disgust. (If the porn had been better looking, the viewers would have been left a lot more unsettled.)

Another unlikely plot development has Big John revealing Gary's secret life as a hustler, which seems unlikely. There may not be honor among thieves, but as a rule, you can trust one slut to keep another slut's secrets. The final reconciliation between Howie and his father is as slick as television; there's also the question of how the father landed in federal prison even before his trial starts.

In any case, L.I.E. has the makings of a very good movie. Cox's virile boy fancier opens up a field of inquiry that our movies previously haven't touched with a 10-foot pole. L.I.E. doesn't endorse the affair, even to the point of leaving Howie and Big John off the plot's hook, in a highly unlikely--even baffling--manner.

Still, this film suggests how that kind of affair might take place--which is wildly unusual in American movies, where any connection is between adults and the underaged unspeakable perversion, ultimate unthinkable evil, etc., etc. Everyone I knew at 16 either had some kind of fling going with an adult, or wished that they did. Today, merely a few years later, such a liaison is not just crime, but the worst kind of abuse. Other times, other morals.

L.I.E. backs off sharply, and shifts everything back into place with a measly after-school-special ending. All this finessing can't eclipse Cox's great courage here. Brian Cox fulfils the prime duty of art: his acting increases our empathy for others, especially those who we're encouraged to hate.
---
L.I.E. (NC-17; 108 min.), directed by Michael Cuesta, written by Stephen M. Ryder, starring Brian Cox, Paul Franklin Dano and Billy Kay, starts Friday at the Towne Theater in San Jose.
---
[ San Jose | Metroactive Central | Archives ]