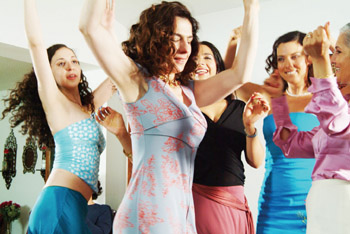 Dance Fever: Arsinée Khanjian takes a star twirl in 'Sabah.'

Desert Hearts

The ninth annual Arab Film Festival presents two weddings, and some funerals

By Richard von Busack

EVERY CULTURE puts its best and worst face forward at a wedding. The nuptials in two films in the ninth annual Arab Film Festival (with showings at Stanford and in downtown San Jose) concern strife about arranged marriages. That this is still a matter of controversy may be because it is essential to the difference between worldviews: the Muslim insistence on destiny and submission vs. the Western tradition of the sanctity of an individual's choice.

Eran Riklis' The Syrian Bride (showing Sept. 28 at 8:45pm at Cubberly Hall at Stanford University) will also be screening in the upcoming Jewish Film Festival. That's no mystery. The real mystery is why The Syrian Bride hasn't gotten a distributor yet—it's one more ornament in Israeli cinema, which addresses security problems and questions of guilt and oppression in ways the American movies haven't caught up to yet, even four years after Sept. 11.

At heart, the film is a romance addressed to that something inside a person that doesn't love a wall. An arranged marriage is set up for Mona (Clara Khoury), a stateless young woman from the Golan Heights, and a fatuous TV star from Damascus. A hitch turns up in the form of border guards: the nemesis nations of Syria and Israel each claim the Heights, and once Mona makes it into Syria she probably won't be allowed back to see her family. The strain is reflected in the Druze family, with the father under pressure from both the Israeli watchdogs and the traditional elders of his town, while Mona's elder sister (the movie-stealing Hiam Abbass) is ready to head to university with or without her husband's approval.

In Toronto, a Syrian woman named Sabah is hitting 40; she is single and seems doomed to be the daughter who takes care of her clingy widowed mother, and then one day she meets a cabinet maker from Sudbury, who doesn't even know enough about Muslims not to offer them a glass of wine for dinner. Sabah is a little comedy with a lot of heart and a radiant star: Arsinée Khanjian, a presence in the films of her husband, director Atom Egoyan. Sabah's director, Ruba Nadda, has created a charming movie that transforms her star from a nervous mouse swathed in clothes to forceful woman, and it's like watching a rose unfold. (Nadda, whose short Aadan is also playing, will be appear for a Q&A before the screening on Sept. 25 at 6pm at Camera 12.)

Other films in the festival, which is traveling around the Bay Area from Sept. 23 to Oct. 2, include student shorts and the free-admission documentary Occupied Minds (Sept. 27 at 12:30pm at Camera 12), which concerns the conversations between an Israeli and a Palestinian. The festival also debuts Exils, the new movie by internationally famed Rom filmmaker Tony Gatlif (Sept. 26 at 9:30pm at Camera 12), and even a modern pastiche of the once-popular Egyptian musicals of the 1940s, Enta Omry (Sept. 27 at 8:30pm at Camera 12). This annual festival is essential viewing: the West knows so little about the Arab world, and it must catch up so fast.
---
The Arab Film Festival plays Sept. 25–27 at Camera 12 in San Jose and Sept. 28 at Cubberly Hall at Stanford. (See www.aff.org for details.)
---
---
Send a letter to the editor about this story to letters@metronews.com.
---
[ Silicon Valley | Metroactive Home | Archives ]