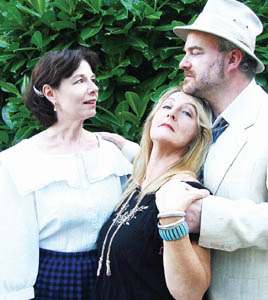 Tropical Triangle: Diane Tasca (left), Pat Tyler and Mark D. Messersmith star in Pear's version of 'Night of the Iguana.'

Oh, What A Night

'The Night of the Iguana' is both cruel and funny at Pear Avenue Theatre

By Marianne Messina

IN The Night of the Iguana, one of Tennessee Williams' later plays, the characters set free an iguana that has been tied up under the veranda of the seedy Mexican resort where the action is set. And along with the "ugly" creature, Williams seems to set his characters free from the ugliness of human cruelty and self-torture that fills much of his work. Moreover, the current Pear Avenue Theatre production of this 1961 play neatly peels back the dark skin to reveal an incredible sense of humor.

Widow inn-keeper Maxine (Pat Tyler, oozing quite comfortably into her role as the midlife vamp) started sleeping with her young Mexican servants while her husband, Fred, was still alive, to get a rise out of him, because "a man and a woman gotta challenge each other." Later, she laments the fact that the practice makes it harder to get her servants to "respect" (work for) her. Even without words, David Zubiria is aptly disrespectful (lazy) as lust object Pedro (and quite apt on that count, though the lust is more remote and playful than gropey-steamy).

Williams' words in Iguana constantly walk a tightrope between emotions diametrically opposed, and only stellar performances by Diane Tasca and Mark D. Messersmith maintain both an unwavering ambivalence and a tenacious sense of humor. Tasca plays Hannah Jelkes, a "spinster" sketch and watercolor artist who, along with her 97-year-old "minor poet" grandfather, Nonno (Michael Moerman), hustles tourists as a sort of itinerant busker. (Moerman dodders so convincingly that his bouncing curtain call is a revelation.)

Tasca's Hannah is both restrained—in her slow, deliberate speech—and cagey. When Hannah re-enacts the way she works a crowd, selling portraits in a busy resort dining room, she's both pitiable and hilariously ingenious. Mark D. Messersmith gives a fluid performance in the famed Richard Burton film role of Rev. T. Lawrence Shannon. Even without Burton's imperious physical presence, Messersmith animates the defrocked minister with incredible agility—sometimes heroic, petulant, infantile, attractive; his chimerical nuance allows the audience to laugh at and whimper with Shannon in the same instant.

Pear Avenue Theatre is undaunted by scenic directions that call for a veranda overlooking the ocean in a tropical rain forest with "real rain." The production makes up for grandiosity with realism and precision. For example, sound placement and volume levels in Andrew Will's sound design are almost impeccable, avoiding overstatement and self-serving spectacle. A perfectly timed echo decays precisely away. The honking horn coming from the tour bus where Shannon's sweltering tourists await him reinforces an imaginary, oft-gazed-at "down the hill" location outside the theater space. The thunder is ominous and full of mystery without being an overbearing FX sensation; sounds of rain and breeze promote an air of awe.

In the lighting department, Neil Satterlund has designed elegant backlighting to reveal the guests in their curtained rooms and created a power outage with an eerie darkness that doesn't sacrifice clarity. The raised, plant-dressed stage accommodates three bedroom doors, a bar, a breakfast table and Shannon's imposing (prison/cocoon) hammock—and still appears spacious.

Director Jeanie Forte's other choices are equally precise. Casting a towering Brittany Heideman as the puppy-love-obsessed Charlotte, object of Shannon's "statutory rape," makes Shannon seem more hapless than lascivious. The decision to include the German guests (as sounds from a backroom) maintains a "lively, healthy and wealthy" continuo behind the ache of loneliness and self-recrimination onstage.

In spite of rampant humor and the once much-critiqued backdrop of sexuality and desire, the play also strikes some touching chords as it explores the nature of loneliness and the risks (impermanence, for instance) of building a life around relationships. This technically ripe Pear slice of Williams makes for a delicious, emotionally rich taste of theater.
---
The Night of the Iguana, a Pear Avenue Theatre production, plays Thursday–Saturday at 8pm and Sunday at 2pm through Oct. 2 at the Pear, 110 Pear Ave., Unit K, Mountain View. Tickets are $10–$20. (650.254.1148)
---
---
Send a letter to the editor about this story to letters@metronews.com.
---
[ Silicon Valley | Metroactive Home | Archives ]