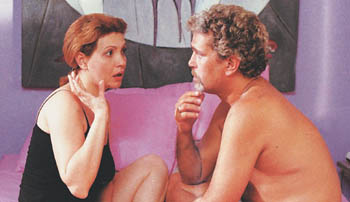 Bed Heads: Julio (Luis Alberto García) enjoys life in 'Perfecto Amor Equivocado.'

Cuban Heel

A middle-aged writer faces the decline of his powers and the decay of the Cuban dream in 'Perfecto Amor Equivocado'

By Richard von Busack

A PART FROM the fun of watching outraged husbands and shrewish wives, a good farce always includes some social criticism. Perfecto Amor Equivocado (a.k.a. Love by Mistake), Gerardo Chijona's keen comedy, is set in Havana. Julio (Luis Alberto García) is a distinguished one-and-done novelist returning to his homeland from the literary tour overseas. He's none too happy to be back in Havana. The heat and the omnipresent salsa music rub him the wrong way. Shortly, he settles into his usual routine—dinner with his wife, Myriam (Susana Perez), who is a gynecologist at a government hospital, followed by an afternoon session with his buxom mistress, Silvia (Beatriz Valdés); Silvia is an architecture professor at the university where his grown-up daughter, Milagro, called Milly (Monica Alfonso Solares), is attending school. Julio is not yet recovered from his jet lag when he learns that Milli is dating a man in his late 50s. And then the blocked writer puts the finishing touches on his hypocrisy by starting up a new affair with Ana (Sheila Roche), a journalist not much older than his daughter.

Perfecto Amor Equivocado earns its frame-breaking gag when Silvia tells Julio, "Is there a woman in this film you haven't slept with?" But Chijona always avoids shrillness. While the rounds of farce are all well-taken care of, we also see a shrewd dissection of Cuban life. Chijona uses the sex comedy the way directors in England did in the 1960s: to show the mildew on the social edifices. We see the ladies desperate to get to Europe, where the power stays on and the cars can be trusted. Here is the backside of every visitor's fascination for the bulgemobiles of Havana: Miriam, bitching about her own ride, a vintage Russian Lada: "If I was a salsa singer, I'd have a Nissan." The couple's dislike of salsa comes from the way the tourists soak in it—just as an antediluvian French Quarter resident could get awfully sick of Dixieland jazz. Julio is naturally suspicious of foreigners anyway: "People come here looking for utopias and black girls." This talk gets even looser with one gay and two bisexual characters introduced into the story.

This much openness is surprising coming from a nation that our ever-vigilant State Department keeps trying to protect us from. And in the spirit of Marxist self-criticism, Perfecto Amor Equivocado even goes after dissident writing. While Julio is taking a shower with Ana, the merciless young journalist sums up his hopeless second novel. Julio's Neruda-style ellipticism and veiled criticism aren't going to beat the bulldog anymore: "These days, you have to dive to the bottom or stay onshore." In all the best senses, Chijona's movie dives for the bottom. Julio makes a mixed recovery and succumbs to the film's most sinister seduction: the embrace of the open market. His personal affairs arrange themselves neatly, but the happy ending doesn't compromise the film's clear-eyed view of life in Cuba after the Russians cut the credit line. The sun, the brio of Havana and the unstoppable women: Perfecto Amor Equivocado has all the pleasures a tourist could expect, but it won't let you leave without learning something.
---
Perfecto Amor Equivocado (Unrated), directed by Gerardo Chijona, written by Chijona and Eduardo del Llano and starring Luis Alberto García, plays Sept. 25 at 5pm at Ciné[email protected] Row as part of the run-up to this year's International Latino Film Festival in November.
---
---
Send a letter to the editor about this story to letters@metronews.com.
---
[ Silicon Valley | Metroactive Home | Archives ]