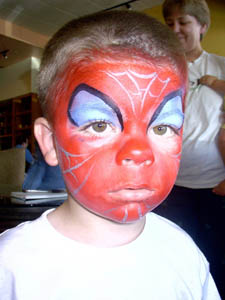 Biter

Body Art

Face painters go in search of a bigger canvas

By Vrinda Normand

THREE-year-old Mark Avila stomps into Cool Beans Cafe on Branham and Snell on Monday afternoon. His round belly pokes out from under his T-shirt, and his chubby cheeks wax pink from exertion.

"Hey there, little guy," says Mike Silva, the independent coffee-shop owner. "You want to get your face painted?"

Avila turns excitedly toward the colorful table set up by the front entrance. Like many cafe customers today, he will be temporarily transformed into a walking work of art—no charge, courtesy of Jodi Carr, professional face and body art painter from San Jose.

The service is part of a "jam" or practice session with fellow painters. "I take any chance I get to improve my craft," Carr says. She has been adorning bodies with sponges, brushes and foamy applicators for 10 years now, but still strives to make her designs more sophisticated.

In the past couple of years, a new wave of face and body art has taken off in the United States, brought over by enthusiasts from Europe, where full-face creations abound at amusement parks and street fairs. Marcela Murad, Florida-based editor and publisher of Face and Body Art Magazine, sparked the crossover when she started organizing international conventions in 2001. For 20 years, she taught "nice and easy" face painting to birthday party clowns but got shocked out of her old ways by a Belgian body artist. "It just amazes me what people can do," she exclaims. "They use the body as a canvas. It's like a living art."

Carr snubs the American tradition tied to clowns and routine cheek art. "There are, frankly, a lot of people in the business that aren't really good painters," she says, "They're just out there to make a buck."

Now more fine artists are turning to the three-dimensional curves of the face and body. Erotic forms of the art are appearing on Playboy bunnies and Sports Illustrated models. Carr recently completed a private commission for a woman who wanted to be painted to match her brown-and-white spotted horse—entirely nude.

As weird as the requests get, Carr appreciates the challenge. She says what she can do is "as limitless as the imaginations of the people that I'm painting." She doesn't put out a menu because that would be "too restrictive."

She once turned a teenage girl into a skull, making her skin look like decaying bone. She accented sunken black eyes with pink shading and blood-red cracks; she lined the edges of the forehead with yellow blotches and black grooves; finally, she plastered the mouth with a wide, toothy grin that spread from cheekbone to cheekbone.

At the cafe jam, Carr is joined by Ronia Grillos, a novice face painter from Santa Cruz. "Jodi [Carr] is my mentor," Grillos gushes. "She taught me everything I know."

The artists often paint each other for practice or fun, and today, Grillos' face is adorned with sparkling butterfly wings, outlined with intricate curlicues and filled with a rainbow of fluorescent shades. Carr applied the background with a multicolor palette and a custom-designed sponge.

Meanwhile, little Mark Avila is about to become the spitting image of his favorite superhero. He squirms in his chair as Carr spreads red paint across his forehead. "I don't like it," he complains, touching his stubby fingers to the wet stuff on his skin.

Carr sweetly coaxes him with reverse psychology. "It's OK, Mark. You don't have to get painted. I'm going to work on this other little girl who's been waiting." Avila looks at her with his wide brown eyes and quietly concedes, lifting his face toward the middle-aged woman wearing a pink beret and a friendly smile. Carr gently places her hand under his chin and bends to cover all the nooks of his small face with her brush. When she is done, Avila examines himself in a hand mirror and becomes captivated. His face is a web of black and blue lines over a red background. His eyes are pointy black circles, and a tiny spider crawls across his cheek. He wears a serious expression now, as if planning to scale buildings with his fingertips.

"It was worth waiting for, wasn't it?" Carr asks him. He nods.
---
Send a letter to the editor about this story to letters@metronews.com.
---
[ Silicon Valley | Metroactive Home | Archives ]