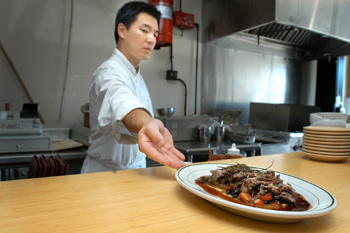 Photograph by Charlie Nucci

Dish Information: Is it Japanese? Is it fusion? Chef Yasukawa says you just have to try it.

Taste Translation

Brett Yasukawa lets the food do the talking at Yasu

By Stett Holbrook

CHEF BRETT Yasukawa has a little trouble describing the food he makes at Yasu, his new Japantown restaurant. He says it's definitely Japanese in inspiration, but you won't find sushi or tempura or other Japantown standards on the menu. There are Western ingredients like grilled tri-tip, smoked salmon and chocolate alongside the shiitakes and tofu. But it's not quite fusion cuisine.

Yasukawa is a fourth-generation Japanese-American who grew up near San Jose's Japantown. He cooked at Wolfgang Puck's Chinois in Las Vegas, Nobu in Vegas and New York City and elsewhere before opening his restaurant this spring. He calls his food contemporary Japanese and, alternatively, "yonsei cuisine." Yonsei means fourth-generation Japanese—not exactly an evocative description of food. In the end, Yasukawa would rather let his food do the talking. "You just have to come down and try it," he says.

While not without a few stumbles, Yasukawa's food is definitely worth trying. Occupying a tiny Jackson Street storefront, Yasu is a spare but casually elegant restaurant. There are a half-dozen tables and a narrow counter that faces the bamboo-screened kitchen. The tidy, regularly changing menu is divided into "greens," "from the sea" and "on land." Everything is served family style.

From the selection of greens, "the Iceberg" ($6.50) salad is a star. A cool, crisp wedge of iceberg lettuce is topped with a tangle of capellenilike strands of shaved daikon radish and thinly sliced shiso leaves. The "iceberg" rises above a small pool of light ponzu sauce. The salad is crunchy and refreshing and restrained enough to make you hungry for more. Less successful, however, was the mixed-green salad with smoked salmon ($8.50). The honey-jalapeño dressing was applied too heavily and, combined with the meaty slices of smoked salmon, made for a rather clumsy dish.

From the "sea" part of the menu, the plump crab and corn cakes ($10) look like large Tater Tots. They're good, especially with the satiny shichimi pepper purée, but I wished the kitchen was a little more generous with the crab. The fried-abalone special appetizer ($16) suffered from the opposite problem. There were plenty of the gastropods on the plate, but they were tough and chewy, and the thin batter masked their subtle, meaty flavor. They tasted like glorified fried calamari. But the seductive black cod miso ($12) made up for all that. The succulent chunks of the fish have a deep, rich, almost caramel flavor imparted by the miso. The fish is served with the skin and bone attached. (Note to the skin and bone averse: that's where the fat is and that's where the flavor is). Translucent slices of pickled cucumber served with the fish strike a refreshing counternote to the cod.

Moving onto the "land" section of the menu, Yasu picks up even more speed. The tender duck breast with spicy garlic eggplant ($16.80) is great. Bite-size chunks of tender, expertly cooked duck are artfully arranged with slow-cooked Japanese eggplant enrobed in a faintly sweet, rich ginger miso. On a lunch visit, I enjoyed the grilled tri-tip curry ($7.80). It leans more West than East. Served in a deep, square white bowl, the tender chunks of meat are bathed in silken, corn-studded deep brown gravy. Showing a keen eye for subtlety, Yasukama sprinkles a few leaves of lemon thyme on top to lighten the curry ever so slightly. The dish would probably taste even better on a cold November night.

Service at Yasu is excellent for such a casual, reasonably priced restaurant. The servers are enthusiastic and well versed in the menu. They readily recommend dishes and you get the feeling they're really excited about what Yasukawa is cooking.

Dessert is limited to decidedly un-Japanese creamy, liqueur-filled chocolate cups ($3). The Kalua cream-filled version is good, but seems a rather odd combination of flavors with which to end a Japanese-inspired meal.

Yasu's wine list is small but well chosen. Pairing wine with the salty, sweet, sour and umami flavors of Yasu can be tricky, but the list is up to the job. The wine list also includes a selection of premium sakes. Here again, the waitstaff are well informed and helpful as they guide you through what could be foreign territory.

After my visits to Yasu, I'm not sure how to describe the food either. Western-leaning Japanese cuisine? Nouveau Japanese? Whatever. I'll just call it good.
---
Yasu
Address: 211 E. Jackson St., San Jose
Phone: 408.291.0684
Hours: Lunch 11:30am-2pm Tue-Fri; dinner 6:30-9pm Mon-Sat
Beer and wine
---
---
Send a letter to the editor about this story to letters@metronews.com.
---
[ Silicon Valley | Metroactive Home | Archives ]