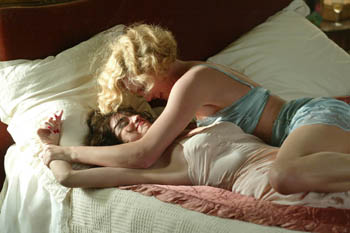 Photograph by Pierre Dury

The Unconformists: Charlize Theron and Penélope Cruz tease society conventions in 'Head in the Clouds.'

Charlize's Anglo

'Head in the Clouds' turns on the bubble machine in tale of champagne heiress between the wars

By Richard von Busack

UNDENIABLY appalling and yet occasionally rich, Head in the Clouds is another movie that would be seriously helped by heavy opiates. Watching it on TV in a surgery-recovery room, you could never tell if what you were seeing was a dream or not. You could lapse in and out of wakefulness as the movie unfolded, letting your subconscious supply missing details: for instance, having Norman Fell's Mr. Roper from Three's Company sneak up the stairs to spy on the Parisian flat Charlize Theron shares with Penélope Cruz and Stuart Townsend.

Australian director John Duigan is drawn to the unimaginatively erotic. His film Sirens, about a notorious Australian artist, was almost a sexy movie; he was the Roger Vadim who discovered Nicole Kidman (in the movie Flirting). Granted, seeing Theron in vintage lingerie and 1930s haircuts (bob, marcel curls) is far more pleasurable than seeing her made up to look like Lee Marvin, murdering random Floridian tricks in Monster. However presented, Theron is still what she's been for years: a vague, brittle actress with an uninflected voice.

She has the sweeping role of Gilda Besse, champagne heiress, post-Lost Generation artist and bisexual. Redundantly narrated, her story is told by Guy (Stuart Townsend), the man with whom she has a long-running fling. Guy is a tweedy, bookish Anglo-Irish teacher who is increasingly politicized by the gathering World War II. At times, Gilda and Guy share space with a dark, tough Spanish burlesque artist (Cruz). About as hot as it gets is a two-gal tango (a clumsy homage to the famous dance in Bertolucci's The Conformist).

Steven Berkoff, horsed by the spirit of Von Stroheim, turns up as Gilda's father, the champagne baron. He wears the uniform of a French fascist and sports a wart right between his eyes, like the blunt end of a bullet. My big crush isn't on Theron, it's on Berkoff, who once had an immortal Cold War scene right out of Rumsfeld's most quivering nightmares. Playing a mad marshal of the USSR in Octopussy, he horrified a perestroika-fancying Politburo as he explained the quick easy way to carry out World War III. When Berkoff appears, the film's promise of juiciness is fulfilled.

Nazis must be shot, yes. I don't know if I read this in a good book or saw it in a bad movie, but somewhere I stumbled on the phrase "War is the biggest pimp of them all." Young men get sold on the idea that only the battlefield can cleanse away the cloying perfume and the champagne hangover. The implications of this kind of purification take Head in the Clouds out of the field of lame erotica and into serious annoyance. Duigan's expensive bad movie is almost bad enough to drift through, but then come the trip wires. If your leading man is not Belmondo—and Townsend isn't even Billy Crudup—don't put him in a bathtub with nothing but a fedora. If you're shooting a funeral scene, don't include a burro in the frame. They never look sad enough.
---
Head in the Clouds (R; 132 min.), directed and written by John Duigan, photographed by Paul Sarossy and starring Charlize Theron and Stuart Townsend, opens Friday at selected theaters.
---
---
Send a letter to the editor about this story to letters@metronews.com.
---
[ Silicon Valley | Metroactive Home | Archives ]