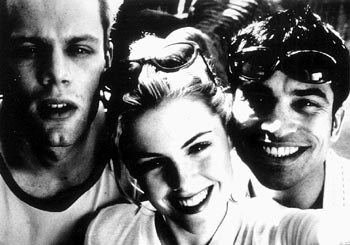 Girls Just Wanna Have Fun: Kathleen Robertson is one-third of a joyous triangle in 'Splendor.'

Madcap Ménage

A threesome frolics in 'Splendor'

By Michelle Goldberg

LIKE THE INDIE equivalent of a Hollywood bodice ripper, Splendor is an escapist fantasy that deals more in archetypes than in people--archetypes, anyway, of the narrow L.A. milieu in which director Gregg Araki specializes. Beneath his bubble-gum-bright sets and B-movie ultraviolence, Araki has always evinced a strong romantic streak. Here, in his most coherent and accessible film, his sentimentality manifests itself in a sweetly perverse take on the screwball love stories of old.

Splendor concerns a trio: struggling actress Veronica (Kathleen Robertson) and her two boyfriends, Abel (Johnathon Schaech) and Zed (Matthew Keeslar). The pretty, snub-nosed blonde meets them both at a raucous Halloween party. Abel, a melancholy aspiring novelist, falls for her at first sight, but her eyes are glued on Zed, an angel-faced drummer. Before long, they are each smitten by her, and she loves them both as well. She's upfront about the situation, and after a brief brawl the first time the rivals meet, they agree to share her. Of course, one would expect that, given this setup, the plot would turn on various jealousies and emotional manipulations. There are hints of this early on, when, during a drunken drinking game, Veronica cozies up to Zed whenever Abel hesitates to do what she demands. Surprisingly, though, the threesome soon falls into a happy domesticity. Araki is at his most beguiling capturing the innocent optimism of young people who think they've discovered that the world's rules don't apply to them. Shots of the threesome in bed, both boys nuzzling and cooing in Veronica's ears, may be unbelievable, but they're certainly delicious.

Splendor is often like a cheery, surreal sitcom. One could attribute this to shallowness on Araki's part, and there's certainly plenty of that. For example, on Abel and Veronica's first date, their voices fade out once they fall into conversation, while her voice-over tells us how much they have in common. The implication is that it doesn't really matter what they say, what they have in common, who they are or how they fit together. Either that or Araki just couldn't come up with deep dialogue. But there's more to Araki than his shiny surfaces. By making Splendor seem like a sitcom, he often seems to be affectionately commenting on people who live their lives in TV-land. Yes, the only thing that sets "intellectual" Abel apart from animalistic Zed is his glasses. But Araki seems to have chosen to deal in broad types. His characters fervently inhabit their cool world--they're hipsters without irony. He uses a pop-cultural shorthand that, unlike the reference-heavy work of Quentin Tarantino's clones, is wholly uncynical because he has so much love for his characters and their day-glo surrounding.

The trouble in paradise, when it finally comes, doesn't spring from any internal tension among the threesome. Instead, Veronica finds herself pregnant, and though both boys are willing to play co-dads, she wants a more stable situation for her baby. Right on cue, a squirmingly sensitive, aquamarine-contact-lens-wearing TV producer shows up with a marriage proposal. As in a Julia Roberts movie, it's up to Abel and Zed to beat the clock and thwart their sweetie's loveless nuptials. By the end, even if your disbelief has started to sag, it's hard not to be swept away by the silly, buoyant hopefulness of the film's ménage à trois.
---
'Splendor' (R; 93 min.), directed and written by Gregg Araki, photographed by Jim Fealy and starring Kathleen Robertson, Johnathon Schaech and Matthew Keeslar, opens Friday at the Towne Theater in San Jose.
---
[ San Jose | Metroactive Central | Archives ]