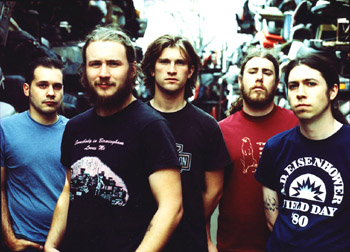 Photograph by Sam Erickson

Kentucky's My Morning Jacket has substantial staying power.

Different Strokes

My Morning Jacket's heavy-reverb Americana rock isn't retro, it's classic

By Sarah Quelland

KENTUCKY GETS a bad rap. It's actually a beautiful place populated by solid, down-to-earth people. There's the pristine horse country, the grain-soaked bourbon country and the backwoods country hollers, criks and caves where moonshining is still a way of life. In the spring, the redbuds and dogwoods bloom. Summer nights are filled with the song of the lonesome whippoorwill and the flickering fairy lights of countless fireflies. Right about now, the leaves on the stately old trees are turning an impossible array of autumn colors. Soon, they'll drop to the murky forest floors to make way for winter's frosty wonderland. It's from this majestic and misunderstood state that My Morning Jacket hails.

This five-piece band is based around the river port city of Louisville--home to Churchill Downs, the twin spires and the Kentucky Derby--and it rehearses and records on a family farm in nearby Shelbyville. My Morning Jacket (songwriter, singer and guitarist Jim James, guitarist Johnny Quaid, bassist Two Tone Tommy, keyboardist Danny Cash and drummer Patrick Hallahan) is the latest in a handful of bands (Days of the New, Tantric, Nappy Roots) to break out of the Bluegrass State. The group's third album, It Still Moves, just came out on ATO Records (a label co-founded by Dave Matthews) and RCA Records. Tremendous use of reverb and vocals that call to mind Neil Young make the first impression, but It Still Moves is a classically cool and nuanced Americana record that sounds like everything great about MMJ's home state.

James' wide-open vocals seem to just fall into the wind, and the band creates consistency inside disparate styles that encompass the searing ambient electronica of the alternately desperate and urgent "Run Thru," the passionate and wistful indie pop of "Steam Engine" and the horn-laden piano boogie of "Dancefloors."

Despite some Southern rock influences--particularly on "Easy Morning Rebel" and "Rollin' Back"--MMJ is not a Southern rock band. It would take wringing Neil Young, the Band, Radiohead, Creedence Clearwater Revival, Led Zeppelin and Lynyrd Skynyrd through a mill of pure Kentucky heritage to even begin to define its fresh yet timeless and eloquent sound.

These guys aren't chasing hits. "I Will Sing You Songs" is a slow promise and plea that clocks in at nine minutes and 18 seconds. It seems James struggles to help people understand his calling. On "One in the Same," he sings, "To all the people I've loved, don't think poor of me / It wasn't till I woke up that I could hold down a joke or a job or a dream / But then all three are one in the same."

On the ATO Records website, the singer--who changed his last name from Olliges to James, perhaps in tribute to the Band's Robbie Robertson--references the Band's song "The Last Waltz" and says, "The road is a damn-near impossible way of life. It's lonely and you miss the people back home. But we love playing rock & roll. That's what we're here to do."

That sentiment is expressed on "Golden," where he seems to speak of touring to the love he leaves at home: "You always told me no matter how long it holds me / If it falls apart or makes us millionaires / You'll be right here forever / We'll go through this thing together / And on heaven's golden shore we'll lay our heads." The eerie acoustic folk of the song goes down as smoothly as Maker's Mark while anxious percussion sets the steady pace of the rhythm of the road.

Still, things do tend to move slower out in the country, and MMJ lets its songs stretch out and take as long as they need to. This sometimes bearded and sometimes barefoot group of talented young musicians has an old soul's affinity for the 1970s and may be as misunderstood as the state they come from. But with full creative control written into their ATO contract, they're preserving the integrity of their uncommercial musical vision much as the old moonshiners are preserving one of Kentucky's cultural legacies. The band plays Slim's on Oct. 10.
---
Send a letter to the editor about this story to letters@metronews.com.
---
[ Silicon Valley | Metroactive Home | Archives ]