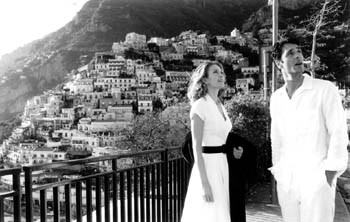 Photograph by Franco Biciocchi

The Grand Tour: Diane Lane finds romance the Italian way in the form of Raoul Bova in 'Under the Tuscan Sun.'

Traveler's Aid

Diane Lane discovers the Italian hill country in 'Under the Tuscan Sun'

By Richard von Busack

CHOOSING BETWEEN a home and a vacation, most people would choose "both." That explains the appeal of Audrey Wells' Under the Tuscan Sun. Frances (Diane Lane), a successful San Francisco writer, has just been divorced by her unseen husband. He gets the house and a new mistress (who seems to be ready to have the children Francis would have liked to have one day). All that she takes with her are three boxes of books, a blue glass vase and the continuing friendship of her friend Patti (Sandra Oh). Patti, a lesbian, is just about to have her own baby and decides to pass on a vacation in order to protect the unborn infant, which is why Frances takes the Gay and Away tour of Tuscany and why she hears of a villa for sale and why, on the spur of the moment, she decides to buy the crumbling place outright with her half of the divorce settlement. The scorpions and storms are bad enough, but Frances finds the appeal of a handsome Roman (Raoul Bova) even more devastating.

Working from Frances Mayes' book, director/writer Audrey Wells adds some gingerbread to what was a straightforward journal of house (and personal) renovation. Wells sticks in a love affair and focuses on a life-affirming expat Englishwoman (Lindsay Duncan) who believes herself to be Anita Ekberg in La Dolce Vita (she's given to wearing cartwheel hats and long-line gloves, and she bathes in a fountain when she gets drunk).

What's attractive about Tuscany is that simple elegance that draws people by the zillions. Unfortunately, Wells ends up driving the picture into travel-mag lushness. Once Frances stops being a struggling artist and turns into a bountiful lady of the manor, she is much less interesting. That said, director Wells keeps improving. Her last film, Guinevere, a heartfelt May/Autumn romance, was flawed by preachy moments; but Guinevere was more important than her much-liked The Truth About Cats and Dogs. Here, more than in her first two films, Wells has a genuine movie star to highlight the sumptuous tourist porn. More than anything, Lane is appealingly earthy; it wasn't the script of Unfaithful that got her an Oscar nomination last year, but rather her sense of strength and curiosity and appetite. These strengths, and the noteworthy Vivian Vance-ing by Sandra Oh (who joins her in her villa) makes the film, on the whole, a treat for those pining for Tuscany. It's only a shame that what starts like an adventure ends like a commercial for gourmet spaghetti sauce.
---
Under the Tuscan Sun (PG-13; 110 min.),directed and written by Audrey Wells, based on the book by Frances Mayes, photographed by Geoffrey Simpson and starring Diane Lane, Sandra Oh and Raoul Bova, opens Friday at selected theaters valleywide.
---
---
Send a letter to the editor about this story to letters@metronews.com.
---
[ Silicon Valley | Metroactive Home | Archives ]