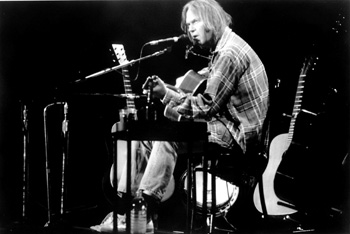 Neil Young bridges the gap at annual benefit concert.

Bizarre Bazaar

South First Street can be--will be--a destination

By Sarah Quelland

ALL OF A SUDDEN, there's been an explosion of things to do in downtown San Jose. People are taking a real interest in revitalizing the SoFA community. Not only does South First Street have three new clubs to look forward to--Pete Janssen and Johnny Van Wyk's Sideways and Jacek Rosicki's Zöe and Backbar--but spy just threw the inaugural SoFA Revival party last Sunday (Sept. 22) with 11 of San Jose's leading bands, and Populus Presents is working with the San Jose Downtown Association and the San Jose Redevelopment Agency to coordinate all sorts of cool community-minded events.

Friday (Sept. 20) marked the first SoFA Bazaar. South First Street (between San Carlos and San Salvador) was blocked off for the new street market and curious folks wandered through on foot to check out the various vendors and listen to the chill music pumping out of the shaded tent area where people lounged on couches. Scheduled to be held every Friday, 5:30-9:30pm, through Dec. 20, this open-air street fair showed definite potential.

Meanwhile, the Positive Skate Experience debuted last Saturday (Sept. 21), bringing hundreds of skateboard enthusiasts to a blocked-off South Third Street for skate demos, clinics, DJs and live music by Sloe and Parking Lot Prophets. Three more of these all-ages Saturday afternoon skateboarding events are scheduled with live bands including Lavabone, SECURITY and Reaction 31 on Oct. 5, and Insolence, Triple Seven and the Restitution on Oct. 19. Bands scheduled to participate on Nov. 2 have yet to be announced.

Other events include Lunch Vox, held every Monday, 11:30am-1pm through Dec. 30 at Fountain Alley between First and Second streets. Musicians, jugglers, artists and magicians provide free lunchtime entertainment. The Saturday Art Market held Oct. 12 and Nov. 9, noon-5pm, at the San Jose Repertory Plaza at South Second Street offers similar live entertainment and artists demonstrations. Live music is also being featured at some of the Gypsy Cinema and Cinema San Pedro movie screenings, which continue through Dec. 20. Visit www.populuspresents.com for more information.

GET KNIT?: Michael Dorf, founder and chairman of KnitMedia, Inc. didn't deny rumors that the company is considering establishing a new Knitting Factory club in the San Jose area. In an email, he replied, "Nothing to announce yet, stay tuned." We will!

HOT TOPIC: Tiana Noyes presents Almost Unplugged, a showcase of performers that includes Noyes herself, Halo, Lisa Dewey, Setting Sun, Whurl Magnet and Lisa Alice this Friday (Sept. 27) at Gaslighter's Music Hall in Gilroy. ... Saturday (Sept. 28), Food Not Bombs presents an all-ages benefit concert at Luna's Mufflers (1623 S. 10th St., San Jose) with Bottles and Skulls, Maelstrom, the Flames, Not In the Face, Hostile Takeover, Stalin's War and the Rotten Fux. It's $5 at the door or $3 with two cans of vegetarian food, and bands start at 7pm. Call 408.294.7036 to volunteer. ... Spearheading the grassroots, nonprofit R2Cents, Michael Magic is still actively promoting local bands on the cable-access TV program every Tuesday at 9:30pm on cable channel 15 in the Cupertino and Los Altos, and every Wednesday at 10:30pm on cable channel 15-A in the San Jose and Campbell areas. The next installment, airing Oct. 2-3, features footage of Insolence's Sept. 13 show at the Icon Nightclub in Palo Alto. Visit www.r2cents.net. ... The 16th-annual Bridge School Benefit (held Oct. 26-27 at Shoreline Amphitheatre) features performances by Neil Young, James Taylor, Jack Johnson, Ryan Adams, Thom Yorke and Tenacious D plus the Foo Fighters on Oct. 26 and the Other Ones on Oct. 27.

PLAN AHEAD: Andalusia and Atomic Mint, Sept. 27 at Plant 51; the Pharcyde, High and Mighty and Afu-Ra, Sept. 29 at spy; Divided and Proffitt, Sept. 30 at Kleidon's Lounge.
---
Send a letter to the editor about this story to letters@metronews.com.
---
[ Silicon Valley | Metroactive Home | Archives ]