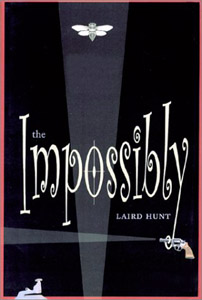 Book Review

By Traci Vogel
---
The Impossibly
By Laird Hunt
Coffee House Press; 205 pages; $23.95
---
INTO ONE TINY PIECE of the heart goes the sound of a footstep in childhood, falling on the front porch. Into another piece goes the fear of death in fire. All of these divisions help us make our way, without often collapsing, beneath the sword of paranoia, through the forest of details. Unless you are Laird Hunt.
Laird Hunt has written a novel, but it is less a novel in the benign sense of the word than an accumulation of permanent shadows, of still unravished mysteries and the ever-changing wine list. The narrator, a man who finds himself drafted into "the organization," receives occult commandments from above. The commandments are often only one word long. He attempts to interpret and follow them: an apt metaphor for everyday life. Friends, enemies and co-conspirators wander through like gingerbread ciphers. There is violence, and there is the quashing of epiphany--sometimes by a blow to the narrator's head. His only consolation is fine food, and the descriptions of dinners waft up from the generalized prose with a piercing and soulful eloquence.
The Impossibly has no plot. It refuses. What carries the reader through is instead a buoyed, rising tone of mystery--and the narrator's odd humor. The buoy of mystery promises some resolve, but the trick here is that the narrator is just as in the dark as the reader, and so the expected downward denouement gets readjusted by early and mystifying, but shrugged-off, retirement. And yet the mystery is addictive. Here, in Hunt's beautiful, curling sentences, one feels that an answer--perhaps armed--may lurk just around the corner.
Readings
Mark Teague: The children's author and illustrator signs copies of Dear Mrs. LaRue: Letters From Obedience School. Oct. 2 at 1pm; Kepler's, 1010 El Camino Real, Menlo Park; 650.324.4321.
Paul Auster: Novelist and filmmaker Auster's new novel, The Book of Illusions, tells the tale of a man investigating the life of a silent-film star. Oct. 2 at 7:30pm; Kepler's, 1010 El Camino Real, Menlo Park; 650.324.4321.
Sarah Vowell: Fans of NPR's This American Life will want to meet author Vowell in person when she shows up to promote her newest book, The Partly Cloud Patriot, a collection of personal essays and reflections. Sept. 26 at 7:30pm; San Jose State University Music Concert Hall.
Joy Harjo: Native American poet and saxophone player (with Poetic Justice) reads from her newest volume of verse, How We Became Human. Sept. 28 at 2pm; San Jose State University, Engineering Auditorium; 408.292.3254.
---
Send a letter to the editor about this story to letters@metronews.com.
---
[ Silicon Valley | Metroactive Home | Archives ]