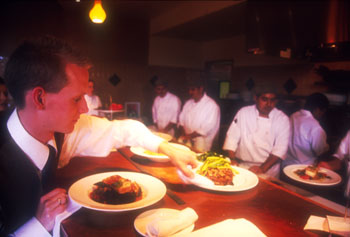 Photograph by Troy Bayless

Go Dish: The busy kitchen at Helios serves up specialties from sunny regions.

Heating up the Scene

Helios, named after the Greek word for the sun, bursts onto the local dining firmament

By Christina Waters

PERHAPS IT'S BEST not to gaze directly at Helios at first. This new source of heat on the Silicon Valley dining scene is so gorgeous it produces gasps in first-timers and smug smiles of satisfaction in its growing numbers of high-tech regulars.

On the way to our beautifully tailored wraparound booth, we spent a few sideways minutes admiring the best-looking bar in town. Clearly designed by aficionados of style, whose concept unites every single detail of the setting, Helios' burnished bronze interior is set off by custom lighting, handcrafted grillwork and lavish highlights of rich Mars violet. Solid artwork adorns the walls, red glass chandeliers wink from the ceiling and the hand-carved curvy wooden bar invites a very vivacious clientele. In a word, Helios is graced with the lounge of the moment. And the food keeps pace, as we soon discovered.

In this flattering and theatrical setting, everybody looks good, from the long tables of entrepreneurs to the waiter who brought our glass of Veuve Clicquot bubbly ($16) and supple Clos la Chance Merlot 2000 ($16). Chef Trish Tracey has created an exciting cross-cultural menu, loosely organized around the theme of warm, sunny regions of the Earth--some Thai, some Mexican, bits of Japanese and more than a handful of Tuscan ideas abound. Heliocentric and utterly beautiful dishes began to arrive, starting with smartly sculpted spring rolls ($8.75) on a dark porcelain platter. The diagonally sliced cylinders came to the table steaming hot, filled with a Gulf prawn stuffing and accompanied by bundles of fresh mint and a hot, sweet dipping sauce. Pickled carrots provided extra zing to this distinctive starter.

Next came a salad of heirloom tomatoes with a round of creamy buffalo mozzarella almost too dazzling to eat ($9.25). Atop a huge slab of red beefsteak pomodoro--utterly ripe--sat tiny cherry and pear tomatoes of orange and yellow next to slices of pink, green and maroon heirlooms, all splashed with basil oil and balsamic. Such a tomato fantasy would have made a sensational vegetarian main dish. Also winning was an appetizer of long, slender grilled asparagus, crisscrossed over a creamy lemon aioli and topped with salty (and addictive) flash-fried capers ($6.25).

Every course arrived on distinctive plates, platters and clever surfaces that harmonized with the restaurant's art direction. And from the multitiered mezzanine seating, every view was opulent--especially at sunset, when the interior fills with a crimson glow.

As a light entree, seared ahi with a bok choy slaw laced with peppers, mint and ginger ($10.25) defied cliché. Little polka dots of wasabi cream and soy adorned the plate. Gorgeous food, gorgeous flavors. My entree of pan-roasted halibut ($19.95) kept uncluttered company with roast tomatoes, caper berries, a few good olives and a bed of infant Yukon gold potatoes. Topped with a gremolata of mint and parsley, each bite of pliant halibut impressed us.

And the clarity of each flavor gave credit to the chef's confident vision. It was hard to believe I was seated around a curvaceous corner from a hotel lounge on De Anza Boulevard. The entire meal--delicious from start to finish--was enhanced by breads and focaccias served on a rectangle of spun aluminum and partnered by a bold tapenade. Flavors of the sun indeed.

Helios had more to offer. In addition to a tempting list of after-dinner libations, notably strong in the area of single malts and grappas (perfect for those diners who are also staying at the adjoining Cypress Hotel), there are pastries to sigh for.

From a list that ranged from chocolate to berry creations, we chose to split an amazing ricotta cheese torte, barely sweet, joined by hauntingly lavender-scented figs ($6.95). Along with cups of legendary Illy Caffè espresso, the meal sent us off to some sun-drenched dreams--and plans for a quick return visit to Helios.
---
Helios Global Brasserie
Address: 10030 S. De Anza Blvd., Cupertino
Phone: 408.873.1000
Hours: Dinner weekdays 5-10pm, weekends 5-11pm, Sun till 9pm; lunch daily 11:20am-2:30pm; bar menu 2:30-5pm; breakfast 7-10am
Cuisine: New American/Global
Full bar
Book a table at Helios online
---
---
Send a letter to the editor about this story to letters@metronews.com.
---
[ Silicon Valley | Metroactive Home | Archives ]