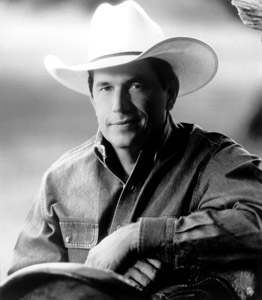 Playing it Strait
George Strait kept it sweet and simple at the Compaq Center
By Sarah Quelland
As a final farewell during "The Cowboy Rides Away," a smiling George Strait flung his cowboy hat into the crowd making a fine souvenir for one lucky person in the floor seats. That was his most spontaneous action of the night. Last Thursday (Sept. 19), the country star played a long, healthy set to appreciative fans of all ages at the Compaq Center. Rarely are so many cowboy hats and Western duds spotted in San Jose.
Though once considered a young buck and a leader of the "Young Country" movement, by today's standards, the 50-year-old Strait is a strict traditionalist and a true modern-day cowboy who actually ropes and rides. Kicking off honoring his home state with "Deep In the Heart of Texas," Strait appeared on the square stage--which was set up smack-dab in the center of the arena--in a crisp blue-and-white pinstriped button-up shirt, perfectly-pressed Wranglers, a white cowboy hat and tan cowboy boots. With his hat on, Strait hardly looks like he's aged a day since he started coming up in 1981. He cut a mysterious figure for much of the show, keeping his eyes hidden in the shadow of the brim. Only when the lights hit him just right could you see his whole face clearly. Plain-spoken and to-the-point, Strait addressed the audience only briefly to say, "It's great to be back in town. We got a lot of tunes for y'all this evening," before blazing through song after familiar song.
Far from a greatest-hits tour, Strait concentrated on material from his newest album, The Road Less Traveled. Playing guitar and tapping his toe, the clean-cut cowboy didn't dance, strut or kick. Every two songs he would casually stroll from one center of the stage to the next, hitting all four sides in counter-clockwise rotation so that everyone in the arena got a good view throughout the show. Though his Ace in the Hole band seemed a little off all evening, Strait himself was in good form.
His well-balanced 27-song set touched on a little bit of everything, but maintained a determinedly positive outlook. Strait showed his fans a good time with cute numbers like "Write This Down" and "Check Yes Or No"; sweet songs like "I Just Want to Dance With You" and "The Best Day"; cheery tunes like "Heartland" and "Blue Clear Sky"; silly songs like "The Fireman" and "Lovebug"; and those restless cowboy narratives he's so great at: "I Can Still Make Cheyenne" and "Amarillo by Morning."
In a concert prominently sponsored by Chevy Trucks, the new song "Run" earned a grin with the line "Take a truck, take a Chevy." During another new one, the ballad "Don't Tell Me You're Not In Love," a couple slow danced on one of the landings. During peppier numbers, a handful of couples two-stepped up and down the narrow aisles.
In one of his rare talkative moments, Strait prefaced "Murder on Music Row," joking that it was okay for him to sing it without his duet partner Alan Jackson because he knew how Jackson's part went. The crowd loved the country purist's protest against the music industry which laments, "Oh, the steel guitars no longer cry and you can't hear fiddles play/ With drums and rock 'n' roll guitars mixed right up in your face/ Why, the Hag, he wouldn't have a chance on today's radio, since they committed murder down on Music Row/ Why, they'd even tell the Possum to pack up and go back home/ There's been an awful murder down on Music Row."
The liveliest portion of Strait's show was a Western swing interlude with the spirited "Take Me Back to Tulsa" and a swampy, almost-sexy cover of "Milk Cow Blues."
New songs "Stars on the Water," "She'll Leave You With a Smile," "Living and Living Well," "The Road Less Traveled" and Strait's new cover of Merle Haggard's "My Life's Been Grand" rounded out his generous set, along with all-time favorites like "The Chair," "Does Fort Worth Ever Cross Your Mind" and 1981's "Unwound."
Earnest and honest, this quiet country gentleman has had more platinum-selling records than any other country artist in history. So many of his songs have become staples on country radio, that the songs he left out of Thursday's show bore as much significance as the ones he included. It would take more than one night to cover all the hits. But by standing in front of the crowd and letting his songs speak for themselves, George Strait's concert was simplicity at its best.
---
Send a letter to the editor about this story to letters@metronews.com.
---
[ Silicon Valley | Metroactive Home | Archives ]