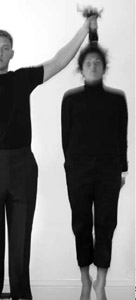 WORKS/San Jose Gallery
By Todd Inoue
---
WORKS/San Jose Gallery
30 N. Third St., San Jose
www.workssanjose.org
Shows: Visual art, performance art, music
Décor: Funky gallery with art installations
Upcoming: New music night (Fri); Performance-art night (Sat). Shows begin at 8pm, and tickets are $5 for Friday and $8 on Saturday
---
WORKS/San Jose Gallery is known primarily as an alternative art space. It's a volunteer-run operation that provides a safe harbor for emerging artists, images and ideas. Four times a year, the gallery expands the parameters even more and sets up a sound system and installations, and lets bands, DJs and creative individuals make music and performance art, sometimes in tandem. This weekend marks another WORKS double-header of art and music.
On Friday (Sept. 27), WORKS hosts electroclash stylists Thomas Bistroy and John Fowler collaborating with photographer and visual artist Keay Edwards. On Saturday (Sept. 28), the gallery gives itself over to three performance artists who will produce feelings as varied as the participants' intentions.
Trapping suspends artist Wei Hsueh naked in a double-framed cube of steel and cable--a statement about categorization. Seth Myers and Jackie Sumell comment on "a world survived by suburban practices and plastic siding" during their three pieces, Quaker Thoughts, Equipoise and Aplomb. Finally, Jacques salutes/mocks consumerism, clam chowder, police and firefighters in Glad.
The music/performance-art weekend is an adventurous event, one that will amaze and perplex and leave you utterly crowing and crying over the current and future state of Silicon Valley arts today. Come down and decide for yourself--guaranteed you won't forget what you saw.
---
Send a letter to the editor about this story to letters@metronews.com.
---
[ Silicon Valley | Metroactive Home | Archives ]