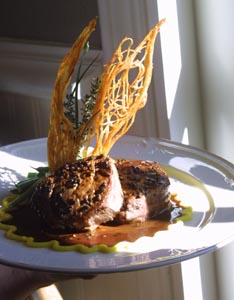 Juicy Flights of Fancy: Le Papillon won't let its filet mignon stay horizontal.





French Dressing

Aiming its stylish, service-intensive format at the diner for whom elegance is important, Le Papillon defies trends

By Christina Waters

AN ATTRACTIVE STAFF, smartly suited in black, made us feel welcome and pampered last week. Le Papillon blazed with soft candlelight, fields of thick, white linen and an opulent floral centerpiece. Everything here works toward the impression of calm, luxe and volupté--and the fleet of Benzes, BMWs and Porches parked outside testify to the success of this landmark's management style.

Inoffensively tasteful right down to the thick carpeting, Le Papillon carries on a tradition many might have thought went the way of en croûte and the three-martini lunch. To start, irresistible aromas sprang from a plate of Normandy butter and a napkin filled with four different breads. This is neither Kansas nor Florence. Contemporary French cuisine is the house specialty, along with an extraordinary wine list from which we smartly plucked a half bottle of Etude Carneros Pinot Noir 1998 ($38), an almost indecently fine wine. Our expert waiter--and indeed all the many staff people who supported our dining experience--exhibited perfect timing, just enough charm and a gift for warm banter. In short, he was perfect, and helped lighten the rather stiff atmosphere made more so by the choice of classical background music.

We were offered a cocktail before dinner, which usually signals to me that the establishment may not be as committed to its cuisine as to overall hospitality. Our appetizers, however, put any fears to rest. Combining the visual sensitivity of nouvelle with California's bright, fresh ingredients, both were generous and delicious. Jack's Ahi Sashimi ($14) arrived in gorgeous gemlike cubes, crimson against a sea of ponzu sauce and tiny islands of wasabi and pickled ginger. Flawless. My pretty lobster salad ($12) rose in a tight cluster of tender lettuces, infant shiitakes, succulent hearts of palm, and sweet, moist morsels of Maine lobster, all inflected by a browned butter vinaigrette. The star of my meal, this creation arrived on a lovely plate whose celadon rim bore the image of a single butterfly.

The back dining room, lined with 19th-century botanical prints and a wall of rare and coveted vintage wines, was entering full glow as our huge white dinner plates arrived bearing attractive creations from Le Papillon's kitchen. My array of braised duck breast was perfumed with the aromas of a ginger orange glaze and a sprig of fresh marjoram rising from a "beggar's purse" of soft crepe filled with wild rice ($28). A heart of baby bok choy, steamed tender, lay along one side, and a zigzag border of puréed beet outlined the entire dish. Everything was fine, though the duck was more done than had been arranged earlier with our waiter, and the sweetness of the beet and orange glaze grew cloying over time. Jack's noisettes of red deer fared better ($31). Two plump medallions of rare game were accompanied by a rosette of mashed potatoes topped with a crisp potato gaufrette and a sprig of fresh sage. A robust reduction of cabernet sauvignon spiked with truffles heightened the delicious venison, and we both savored the full autumnal flavors of this creation. Both dishes were correct and nicely cooked, although not particularly innovative or distinctive.

Along with excellent decaf espresso--appealingly joined by cantucci laced with pistachios--we split a dessert of pear charlotte with caramel "gelato" ($8). It looked quite lovely, the small cylindrical cake topped with gelato and a latticework of caramel sauce. Alas, the tender pear flavor proved too ephemeral to break through the fortress of dry cake, and even the ice cream (which lacked the characteristic tight texture of gelato) didn't lend much moisture to the creation. Technically this dish, just as every other dish in our Le Papillon dinner, was correct. Yet it fell short somehow of catching fire, of success. It seemed content to avoid failure. And that it did very well. Old-world style and culinary restraint formed the collaborative theme of our evening at Le Papillon.
---
Le Papillon
Address: 410 Saratoga Ave., San Jose
Phone: 408.296.3730
Hours: Dinner nightly 5-10pm, Sun till 9pm. Mon 11:30am-2:30pm.
Cuisine: Contemporary French
Full bar
---
[ San Jose | Metroactive Central | Archives ]