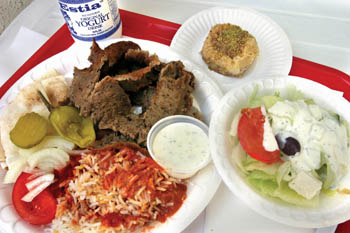 Photograph by Felipe Buitrago

Shank You Very Much: Lamb is one of the top offerings at the Castle.

Have Fun Storming The Castle!

Two Mediterranean restaurants provide a bastion of culinary refuge in a high-tech landscape

By Stett Holbrook

As you head up on North First Street away from downtown San Jose, the landscape gives way to a seemingly endless warren of corporate office parks. Passing the names of tech firms on the sides of buildings is like a roll call of the Nasdaq.

Driving deep into the depths of high techlandia, I couldn't help but think about all those people holed up in their cubicles coding away and inventing stuff. Mainly I wondered where they eat lunch.

Everything in the upper North First corridor looks so new and clean and, well, boring. If your tastes run beyond Round Table Pizza and Starbucks, it's slim pickings. But braving this culinary desert led me to the Castle, an oasis of good food tucked into the corner of a little strip mall.

The Castle is a casual Mediterranean and Greek restaurant that serves more of the former than the latter. Inside, a long counter displays a great variety of Middle Eastern and Greek specialties, including some interesting desserts other than baklava.

I started off with the worksthe combo plate ($11.99). The heaping platter came with all the usual suspects: gyros, falafel, dolmas, hummus, olives, feta cheese and pita bread. The dish was also served with fluffy white rice ladled with "gravy," a thin, meaty sauce that's pretty good. The strips of gyros were pleasantly browned and tender. The falafel balls are larger than the typical portion, and light, almost cakey. My favorite item was the tiny dolmas, which packed a tangy, lemony bite. I found the humus a little pasty. I like it when it's silken and rich. Say yes when they ask if you want a squirt of the brick red spicy sauce. It's not too spicy, but has a peppery, vinegary kick.

You can't go wrong with the chicken gyro sandwich ($6.47), a big, bursting pita packed with light and dark meat chicken and wonderfully caramelized bits of onions and eggplant (I think) awash in a creamy, currylike "special sauce." The chicken itself was rather bland but the sauce and tomato, cucumber and lettuce tie it all together.

A few blocks away is another Castle on Tasman Drive in Santa Clara. The restaurant is smaller than the North First Street location and has more of a cafe feel about it. It occupies a small food mall that includes Japanese, Indian, Mexican and Chinese restaurants and a Togo's. What variety!

Just for comparison's sake, I ate at this location, too. On my visit, I tried the lamb and okra and the spicy chicken (both $8.99), both specials of the day. The lamb, slow-cooked tender, very mild and served with a rich meaty sauce atop rice, was best, but the okra in the dish made me think of Indian food rather than Greek or Middle Eastern fare. The spicy chicken and potato dish lacked much personality. The thin, tomato-based sauce was timid and the white-meat chicken verged on dry.

One difference between the Tasman Drive and North First Street locations is the hummus. It's better at the Santa Clara branch. I also like the tangy, smoky baba ghanoush. I've seen baba ghanoush spelled many ways but the Castle's version is a new for me: baba ganouge. Sounds kinda French.

One of the treats at the Castle restaurants is their house-made Middle Eastern desserts. Burma ($2) are little pastries made of light, crispy wheat flour dough wrapped around toasted whole pistachios and soaked in a light, not-too-sweet syrup. Kataifi ($2) is a denser, sweeter sweet of shredded, toasted wheat wrapped around a sticky and nutty candy filling.

I have no idea why the restaurants are called The Castle. Neither location looks like one. Which isn't to say they're bad-looking places. They're clean and well-lit, but there's nothing castlelike about them all. I called the owner to ask but he appeared to be unclear on the restaurant review concept. He said he wasn't interested in talking to me and then hung up. Falafel savvy, yes. Media savvy, no. But in this culinary wilderness, I'll take falafel know-how any day.
---
The Castle
Address: 3730 N. First St., San Jose (second location at 2213 Tasman Drive, Santa Clara).
Phone: 408.456.0346 (second location 408.970.9438).
Hours: 10am7pm MonFri (second location 11am7:30pm MonThu and 11am7pm Fri).
Price Range: $3.99$11.99.
---
---
Send a letter to the editor about this story to letters@metronews.com.
---
[ Silicon Valley | Metroactive Home | Archives ]