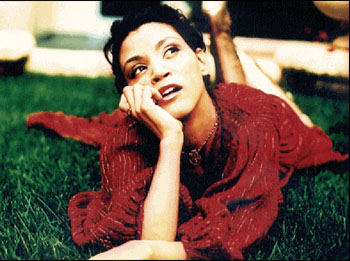 The Planet Doesn't Mind: Until recently, Ladybug Mecca kept her 1993 Grammy statue in storage.

No More Drama

With Digable Planets a not-so distant memory, Ladybug Mecca looks to the future

By Todd Inoue

IT'S POSSIBLE that Mary Ann "Ladybug Mecca" Vieira will never see an article—this one included—that doesn't mention her name and her previous group, Digable Planets, within the first paragraph. Digable Planets—Butterfly, Doodlebug and Ladybug—were one of the first groups to explore the link between jazz, poetry and hip-hop. During their brief moment (1993-95) as hip-hop and bebop alchemists, they won a 1993 Best Rap Performance Grammy for "Rebirth of Slick (Cool Like Dat)," then followed with an album (Blowout Comb) steeped in pro-black consciousness. They were pre-Fugees—political yet sublime, with a powerful female presence in Ladybug, and all three could rap their asses off. Then one day, without announcement, Digable Planets vanished into a black hole.

"We dropped off the face of the earth," Ladybug says from her home in the tri-state area. "There was no press release about why we were breaking up. It left room for people to make up whatever they wanted to make up: drugs, addiction. And I understand that. You leave fans hung dry. They love you and want to hear from you."

It was a number of things. Their Pendulum label went under. The tour in support of Blowout Comb was cut short. Gangsta rap took off. Management and finances weren't straight. In three years, Digable Planets went from Grammy stage to bust. Ladybug's time was especially trying—her parents passed within months of each other, and by her own admonition, she internalized the pain. Rumors swirled.

"I had to step away and be still. I never was on drugs; I tried marijuana, a little bit of 'E' here and there, but no heroin, no coke. I wasn't an addict. I lost weight and looked skinny in the video for '9th Wonder (Blackitolism)' because my mother was sick and dying, and I was stressed out. Naturally, the body tends to cleanse. You get sick, heartbroken, you can't eat—that's what happened."

On top of that stress, Ladybug came off three years of suffering haters who couldn't fathom a woman in a hip-hop group getting shine. "I experienced sexism from women and men," she admits. "There were women who just hated me. I couldn't understand it. I was so young. I knew something was going on, but I couldn't put my finger on it. Intuition was telling me that this person had an ulterior motive, an underlying resentment or hate for me. I couldn't understand it. Even from men, around my close camp, I could visibly see they were jealous of me. They felt threatened by me. It was really odd."

She says she took mental notes and bottled things up. But one day, during the height of Digable Planet mania, Ladybug sat in a law office where an attorney thought it'd be cute to lift up her skirt. Shocked, she retaliated and lived every American's dream.

"I punched him right in his nose really hard and knocked his glasses off," she remembers. "I felt good after that, but it made me reflect on why is it that he felt he could do that to me. You get in that whole frame of mind—and I was never one to wear miniskirts or flaunt myself like that."

Distanced from the business, Ladybug mourned, took care of herself and raised four children. She took tentative steps into the studio, appearing on a few cameos including Encore's "Real Talk" and a cleansing introductory solo single in 2004, "If I Need to Move On (Sometimes)." The rest of the crew floated through projects: Butterfly recorded Ishmael Since 1999, which was never released. In 2003, he followed up with Bright Black under the new name Cherrywine. Doodlebug found success under the name Cee Knowledge. But nothing quite compared to the Digable Planets, and in 2005, they did the thinkable and reunited for a tour.

It's a fresh chapter that Ladybug feels ambivalent about. The reunion tour was a success, with well-received performances at Bumbershoot and Lollapalooza. But important issues from the past still weren't addressed, she says.

"We needed to open up to each other and talk about the past, what went wrong," she says. "Those things need to take place in order to move forward in the future. That has not taken place. People are going into their shell. It throws a question mark up in the air whether it will work again. It feels like people are ignoring it. The fact of the matter is—if we don't handle certain things—we're just running in place really fast. That's what it's like and where it is now."

A best-of record is due out soon, and Digable Planets are booked for the second leg of their reunion tour in October, but Ladybug is hesitant to commit. "It seems like everyone really wants to do it, but everyone is walking on eggshells not to upset someone else," she says.

Until then, Ladybug is working the solo route. Her new album, Tripping the Light Fantastic, was released on Nu-Paradigm in June 2005. Like Dig Plans, she roots the music in an organic aesthetic, but the album also reflects her growth as woman, mother and musical nomad. Soul, funk and Brazilian music, constants in her life, figure prominently.

"My new music represents transformation and represents beauty in life, all of the beauty," she says. "The things we take for granted because we're so consumed by our everyday work life or getting the next dollar. I just wanted to let everyone know where I am in my life."

The place she speaks of is one of acceptance and comfort in her own skin, which is manifested in the up-tempo mover "Don't Disturb the Peace" and straight bangers "Step Up Wise" and "Remember When."

"I'm in really good place. I was able to embrace why my mother and father passed away so suddenly. I was able to embrace that and hold onto their memory and appreciate the beauty of life. That's why you can hear that in my album, like on 'Children Say,' which is about growing up in the social construct as a young child and facing all the isms that I did and picking up on it and knowing that it wasn't right and being real angry and upset but still being able to get to a good place through it all. It's my message to all children—or adults—who have experienced the same things as children that changed their lives permanently; it's a song to cheer them on. I wanted the songs to make you feel good."

At Agenda Lounge, Ladybug will perform songs from Tripping the Light Fantastic with a backup singer and laptop. Asked if she'll include songs from That Grammy Winning Group, she responds with an annoyed, "What do you think?" To this observer, Ladybug is off in another direction, to a galaxy far, far away.
---
Ladybug Mecca, Steve Spacek and Wen Davis perform Friday (Sept. 30) at Agenda Lounge, 399 S. First St., San Jose. The show begins at 10pm, and tickets are $10 presale. (408.380.3042)
---
---
Send a letter to the editor about this story to letters@metronews.com.
---
[ Silicon Valley | Metroactive Home | Archives ]