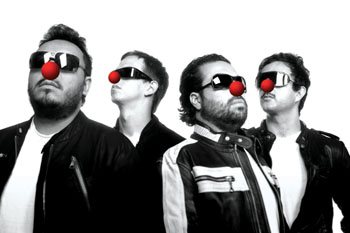 Burning Bright: Molotov won a bet with Chivas owner Jorge Vergara.

In Flames

Mexican rockers Molotov boast of cajones as big as grapefruits

By Jesse 'Chuy' Varela

THE MEXICAN rock group Molotov spent the summer touring central Spain. Miki "Huidos" Huidobro, co-founder and bassist, was laid-back and rested talking by phone from Cadiz where Molotov did one of its 16 shows. Molotov performs Friday (Sept. 30) at Club Barcelona in Sunnyvale.

"We're here in Spain doing a small tour in the interior of the country," he says en español. "It's going all right. It's been a while since we've been here, so it is like starting over, but we've been attracting around 5,000 people per show." Molotov makes great records, and previous albums, such as Dónde Jugarán las Niñas, Molomix and Apocalypshit, intertwined rap, rock, sarcasm and attitude. Molotov took a recording hiatus until 2003 with Dance and Dence Denso. Over the years, the group has fused a sound that draws from rap-metal and Mexico's rock bands of the '70s. The members of the band are outspoken about conditions in their country and around the world. "Molotov is from Mexico, a marginalized country," says Miki, "so when we go to Central or South America or towns in the United States with Latino populations, we see the racial and social marginalization that exists. We try to nail it and express their sentiments in our songs."

Molotov formed in Mexico City and played its first show in 1995. The band is currently surfing the charts with its latest Latin Grammynominated album, Con Todo Respeto, a collection of cover versions of its favorite songs. The Gil Scott-Heron protest anthem "The Revolution Will Not Be Televised" ("La Revolución No Se Televisara") exemplifies their political leanings as they adapt it to articulate the ills they see. It's a marvel that blasts at Spanish-language TV gossip shows, the novela soap operas and corporate domination.

The concept of Con Todo Respeto is clever and appealing. Adaptations of oddities like Falco's "Rock Me Amadeus" led to the package art taking on a medieval look. The diversity of tunes ranges from "Marciano" ("I Turned Into a Martian" by the Misfits), "Diseño Rolas" ("Designer Music" by Lipps Inc.) and "La Boa a Go Go," a loco rendition of the Sonora Santanera tune.

"We have a very original way of communicating within the band," Miki explains. "We have our own language that has elements of dark humor, but it's like four heads thinking all the time. The kind of music I like is totally the opposite of what the other band members like. But everybody brings their ideas and we work through them as a band."

He humbly downplayed the Grammy nod, commenting that albums are just tools to attract fans to the shows. "The essence of this band is playing live onstage," he says. "There's a lot of tricks you can use in the studio, but for us the challenge is to play our songs the best we can onstage."

Besides the chaotic live show, Molotov has become an outspoken lightning rod in the rock community. In its most recent episode, the band provoked the ire of Jorge Vergara, the owner of the Guadalajara Chivas soccer club. Molotov recorded "Me Vale Vergara," which likened Vergara to a pompous nitwit. Infuriated, Vergara challenged the band to bet on a soccer match between Chivas and the band's hometown club, Los Pumas. Pumas won 1-0, and Vergara made good, forking over the game's earnings—1 million pesos, or around $60,000—to a pediatric AIDS charity in Mexico.

"In the last 10 years, we have learned that you can do a lot to provoke activism, but we also learned that we are dedicated to music first. You have to find ways to continue refreshing yourself and reinventing yourselves album after album. In the end it's the music that moves us and feeds us every day. We've learned not to repeat ourselves or get stuck in a formula."

Todo respeto.
---
Send a letter to the editor about this story to letters@metronews.com.
---
[ Silicon Valley | Metroactive Home | Archives ]