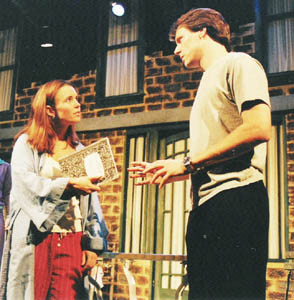 Photograph by Shannon Stowe

Trying to Add It All Up: Julianne Arnall and Bill Olson try to find the logic in 'Proof.'

The Proof Is in the Play

David Auburn's family math adds up in City Lights production

By Marianne Messina

CITY LIGHTS' current production of David Auburn's play Proof delineates the prickly spine of concepts like love and caring with amazing clarity. In the story, Catherine (Julianne Arnall) finds herself depressed and unmotivated after years of caring for her mentally disabled father. In the uncertain vacuum he leaves when he dies, Catherine and those around her start to question her own mental health. In this production, the bond between father (Steve Lambert) and daughter, shown sometimes in flashback and sometimes with the father as imaginary figment, is spunky.

We also sense their closeness by way of unspoken empathy, no easy acting feat to pull off. Arnall gives us a feisty Catherine who seems not to have a nurturing bone in her body—making the relationship lighter and less cloying. It also intensifies the challenge she presents to would-be admirer Hal (Bill Olson). Suddenly, in comes sister Claire (Gemma Beddo Barozzi), wearing her Big Apple bedazzlement on her ears and neck in elegant, but tasteful, jewelry (Holly Cornelison clothing designer).

Part of the clarity of this performance comes from Barozzi's Claire, whose precariously balanced motives—good intentions, lack of understanding, jealousy, resentment—never veer off into one particular camp. Even delivering the telling line that she got only a fraction of her father's mathematical abilities, she's hard to read. And yet, it's all there in Claire's decisions, and for that reason Barozzi, never overly sanctimonious or angry or self-pitying, comes off as the most insidious of Claires.

Director Vickie Rozell has brought a lot of smooth to this production. Other than a tiny bit of sitcom-style mugging, she leaves sarcasm and irony to their delayed impact, while more immediate gags (Hal grabbing a drink in midsentence) benefit from tight, swift timing. The old and drafty house is rendered in a discolored brick house front "with character," such as you would see on college row at any older university (Ron Gasparinetti, set designer). Lots of windows for draft potential, but backlit with homey curtains—reflecting the emotional state of affairs within.

Crafty touches can also be seen, for example, in the way the production brings out the nerd-rock-band side to Hal's personality. When Catherine searches Hal's backpack for stolen notebooks, one of the items in it is a set of drum sticks (nice touch by props designer Caela Fujii). The strains of garage rock coming from "inside" the house for the funeral party provide just the right blend of atrocious, fun-sounding and irreverent (Andrew Hohenner sound designer). Hal, the band's drummer, emerges from the house animated in post-concert rush and comes down in a smooth arc to something romantic enough to make the first-kiss scene sweat-under-the-collar hot.

A love relationship struggling with trust, a family struggling with how to care for a disabled loved one, brilliant people struggling with the loss of brilliance—the struggles are outlined clearly, yet this production avoids the easy judgmental tilt of a slightly more vulnerable Catherine or more spiteful Claire. As a result, the drama is taut, the humor surprising, sometimes even guilty, and there's plenty of juice left in the issues for good aprés-play debate.
---
Proof, a City Lights Theater Company production, plays Thursday˝Saturday at 8pm and Sunday at 2 and/or 7pm through Oct. 23 at City Lights, 529 S. Second St., San Jose. Tickets are $17˝$35. (408.295.4200)
---
---
Send a letter to the editor about this story to letters@metronews.com.
---
[ Silicon Valley | Metroactive Home | Archives ]