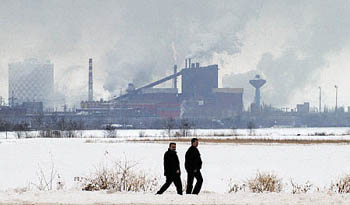 Rev

Berzerkley

Now, Berkeley has announced that it is following the Kyoto Protocol to reduce greenhouse emissions

By Novella Carpenter

SPECIAL ANNOUNCEMENT: I'm going to graduate school! That's right, I took the GRE, wrote numerous statements of purpose and took out a bunch of student loans. UC-Berkeley—that bastion of free speech, that place where my mom went to college and partook in radical sit-ins—I now call my own. So far, it's been a lot of paper writing and getting up way too early in the morning. Graduate school has also exposed me to a city I never cared to care about: Berkeley.

It's fun to make fun of Berkeley. Did you know they passed an ordinance saying that restaurants can't use Styrofoam takeout containers? That coffee sold in restaurants must be fairly traded? Now, Berkeley has announced that it is following the Kyoto Protocol to reduce greenhouse emissions. For those of you from planet Mars, Kyoto is an international treaty that attempts to reduce greenhouse gases worldwide. Bush didn't sign the protocol (of course). Because the United States has never signed on, Berkeley's following of the mandate is a voluntary action.

At a press conference, the mayor of Berkeley, Tom Bates, stood behind two bar graphs that illustrated the city's 14 percent reduction of carbon dioxide, the primary greenhouse gas that contributes to global warming. "This is good for our environment, and it's also good for our bottom line,"Bates declared. He pointed out that the city has saved $370,000 by replacing 20 city vehicles with CarShare vehicles, by using hybrids and by using biodiesel, a vegetable-based fuel that significantly reduces carbon dioxide, in its municipal fleets. The street sweepers, garbage trucks and many other city vehicles run on B20, a blend of 20 percent biodiesel and

80 percent diesel. Though that isn't my favorite blend, it is refreshing to ride my bike behind a garbage truck that smells a little bit like fries; and it still allows Berkeley to meet Kyoto goals.

At the press conference, I met Tom Kelly of KyotoUSA (www.kyotousa.org), a group that coordinates local actions to reduce greenhouse gases. Its concept is that if the federal government isn't going to address global warming—even if we produce 25 percent of the world's greenhouse gases—cities can at least affect change. So far, more than 150 cities have joined a coalition that promises to take action to reduce global warming.

Berkeley is also making plans to join four other cities—Oakland, Boulder, Chicago and Portland—to sign on to the Chicago Climate Exchange (CCX). The exchange facilitates something called carbon credit trading. This means that members of the CCX that fail to reduce their emissions by 1 percent must buy credits from members that were able to reduce their emissions by more than 1 percent. In order to join the CCX, Berkeley had to first calculate how much it was polluting, then the CCX looks these numbers over and verifies them—and then the carbon trading begins! Cities like Berkeley, which reduced emissions by 14 percent, are in a cherry position because other CCX members include IBM, Ford and DuPont, which might need to buy credits from Berkeley. Some of you might be wondering, as I did, why anyone would join a voluntary exchange where you might have to be punished? Often, businesses and cities join CCX to get practice trading carbon credits, with the idea that they will be mandated by the feds eventually. Many of the companies, too, are international, so they are being forced to trade carbon credits anyway.

"Every gallon of gas used creates 20 pounds of CO²,"Nancy Skinner, a former City Council member integral to making the initial energy inventory, said. "When we use biodiesel, it reduces that down to 5 pounds. We use thousands of gallons a fuel every month, so you can see how we could take these savings, sell them as credits and then reinvest that money in more energy-savings programs."

Linda Miao, a former councilmember attending the press conference, said, "If we're going to make a difference in the future, it has to happen at the local level. "Welp, that's my new city. They call it Berzerkley, but it sure makes a lot of sense sometimes.
---
Send a letter to the editor about this story to letters@metronews.com.
---
[ Silicon Valley | Metroactive Home | Archives ]