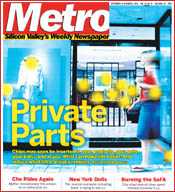 For the Week of
September 29-October 5, 2004
Cover Story: Private Parts:
Chips may soon be inserted in your products, your pets, your kids—and in you. RFID can make life easier. And reduce what little privacy remains.
News: Bean There, Done That
How Starbucks gets independent coffeehouses evicted to avoid buying out their businesses.
The Fly: This week's political bites.



Biter: SoFA Away: The mixed results of well-intentioned 'revitalization.'
Techsploits: What happens in a world where arbitrary limits are placed on people's ability to create?
Rev: Patent No. 6,757,593: If 'anger' is showing, the display shows an 'angry' expression and the speaker outputs an audio message: 'I am angry now.'



Zine Scene: The San Jose Museum of Art goes way outside the mainstream for exhibit of DIY mags.
Small Worlds: Robert Schwartz's paintings roil with mystery; SJ Museum of Art celebrates its 35th.
Paint the Power: Richard Godinez's large paintings attack current events head on.



Che Has His Day: Walter Salles' 'Motorcycle Diaries' takes a ride with the young revolutionary.
Fireballs: Joaquin Phoenix rises from the ashes in 'Ladder 49.'
Kerry On: 'Going Upriver: The Long War of John Kerry' concerns the Vietnam Veterans Against the War as much as it does the candidate.
Arabesques: Cinemayaat—the annual Arab Film Festival—opens a four-day local run.
Russ RIP: Richard von Busack remembers cult filmmaker Russ Meyer.



Personality Crisis: The New York Dolls jet back to life.
Club Life: Deep in San Jose.



Choose Death: A new book puts extreme metal through the grinder.



The Royal Treatment: Savoring the Empress of India's savoir-faire.
Silicon Veggie: TVP (Textured Vegetable Protein) dinners.
5 Places to Love: Salmon.



A Touch of Glass: Tennessee Williams opens the season as San Jose Stage Company breaks out 'The Glass Menagerie.'
The 'Rent' Revolution: The groundbreaking musical still looks ahead of its time.



Please don't forget to write! Metro welcomes letters. Like any great work of art, they should be originals — not copies of letters sent elsewhere. Include address and daytime phone (for verification purposes only). Letters may be edited for length and clarity or to correct factual inaccuracies known to us. Postal: Metro Letters, 550 S. First. St., San Jose, CA 95111. Fax: 408/298-0602. . Emailers, please include name, city of residence and phone number. Letters printed will list email address unless otherwise specified. Letters to the editor are not currently published in the online version of this paper.