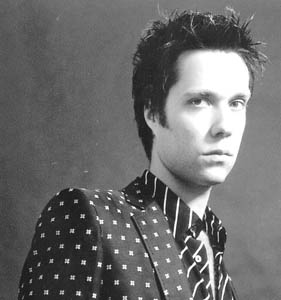 Photograph by Yelena Yemchuck

Sadness, humor and hope suit Rufus Wainwright.

Piano Man

'Want One' finds Rufus Wainwright in a New York state of mind

By Sarah Quelland

FOR A MAN WHO described himself as "mentally shattered" to The New York Times, Rufus Wainwright has written some beautiful and intelligent songs. Devastating drug binges and dangerous quests for anonymous sex came to a head last year for this openly gay musician, and he crashed hard. He sought help, and following his stay in an addiction treatment center, he began working on the follow-up to 2001's Poses.

Originally envisioned as a double CD titled Want, his new body of work is now being released separately through DreamWorks Records as Want One (which came out Sept. 23) and Want Two (which should come out next year). Want One is intended as the more accessible of the two albums, while Want Two is said to hold the more daunting and weird operatic numbers.

Sweeping and grand, Want One is an elegant and elaborate production of classically orchestrated piano-driven New York pop songs enhanced by choirs, horns and even banjo played by Wainwright's mother, folk singer Kate McCarrigle. Thematically, it finds a man at the cusp of a major change, sorting through his emotional affairs, seeking answers, and trying to come to terms both with himself and the world he lives in. The music is frequently evocative of Billy Joel and the Beatles, and Wainwright makes modern concepts like fashion magazines, Perrier out of a paper bag and vibrating cell phones sound as quaint as carriage rides and a bench by the garden. He even uses Ravel's Bolero in "Oh, What a World."

Wainwright addresses his sex and drug habit on "Vicious World," on which he sings, "Thought that maybe we'd fall in love over the phone / Thought that maybe I'd really love being alone," before grieving, "Oh Lord, what have I done to myself?" "Vibrate" similarly chronicles his feelings of loss and desire for redemption: "God knows what all these new drugs do / I guess to have no more fears / But still I always end up in tears / My phone's on vibrate for you / But still I never ever feel from you / Pinocchio's now a boy who wants to turn back into a toy."

Symbols of mythology, religion and pop culture permeate the philosophical and poetic songwriter's thoughtful lyrics. He sings of "Guardian angels who left me stranded" ("Go or Go Ahead") and of "A Saturday Evening Post edition by Jesus / An old piece of bacon never eaten by Elvis" ("Movies of Myself"). Wainwright has a wry and dry sense of humor that's expressed on songs like "14th Street": "Why'd you have to break all my heart? / Couldn't you have saved a minor part? / I could have clipped and saved and planted in the garden / Damn you, guess I'll have to get a new one."

Both "Beautiful Child" and "Want" suggest that the 30-year-old Wainwright longs for a simpler, more innocent way of life. On "Want," he sings, "I really don't want to be John Lennon or Leonard Cohen / I just want to be my dad with a slight sprinkling of my mother / And work at the family store and take orders from the counter." Here, he says, "I'll settle for love," and asks, "Will you settle for love?" His dreamy tone implies that in his complicated world, settling for love isn't settling at all.

Wainwright's father is singer/songwriter Loudon Wainwright III, and he and Rufus have reportedly had a tempestuous relationship. On "Dinner at Eight," Rufus accepts responsibility for a falling out they had ("Dinner at eight was OK before the toasts full of gleams / It was great until those old magazines got us started up again / Actually, it was probably me again") and exposes the tremendous vulnerability of a little boy ("No daddy don't be surprised if I want to see the tears in your eyes / Then I know it had to be / Long ago, actually in the drifting white snow / You loved me"). Ultimately, Want One tells the story of a man reclaiming control of his life, sifting through and finding something worth saving.

HOT TOPIC: Insolence plays material from its forthcoming album, Stand Strong, in the R2Cents studio this Monday (Oct. 6) that airs Wednesday (Oct. 8) at 10:30pm on Channel 15-A in San Jose and Campbell and Monday (Oct. 13) at 9:30pm on Channel 15 in Cupertino and Los Altos. Insolence plays the Edge on Oct. 24.
---
Send a letter to the editor about this story to letters@metronews.com.
---
[ Silicon Valley | Metroactive Home | Archives ]