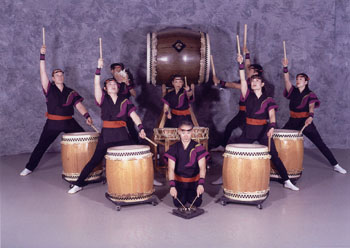 Photograph by Gary Ono

Not All Bachi Is Bad Luck: San Jose Taiko celebrates 30 years of choreographed beats and melodies at the San Jose CPA on Oct. 4.

Beating Down Boundaries

It took a Senate bill to protect Japantown. It will take much more to preserve its favorite arts group, San Jose Taiko.

By Vera H-C Chan

PJ HIRABAYASHI still gets giddy walking the streets of Japantown. "You get an eyeful, an earful, a noseful. You can feel the tick ... tick ... of the community," says the San Jose Taiko creative director as she walks the quiet two blocks from her offices in the historical Issei building to Oikida Hall.

At typical PJ pace, not counting friendly interceptions, the walk takes about three, maybe four minutes. Reaching this path, though, took San Jose Taiko 30 years. Beginning in the San Jose Buddhist Church where it started as a cultural youth project, the company has practiced on delivery docks of the old San Jose Produce Market, in abandoned canning warehouses and even in the noisome yard of the Northern California Fertilizer Company.

After circling the outskirts of Japantown for years, the group finally moved into permanent rehearsal digs at Oikida Hall on North Sixth Street this past May. For the first time in its existence, San Jose Taiko put up a sign announcing its presence. It would take a stack of Tarot cards to sort out the symbolism in this homecoming (as much of a homecoming as you can have when you've only lived a few blocks away).

The 1915 hall had been built for weddings, festivals and the other celebrations for a burgeoning Japanese-American community. The hall was transformed into a movie theater, then into an aikido studio for about 25 years. After a brief period as a karate dojo, the space became available. Taiko (which used to call troops to battle in the past) and the troupe's place as conquering community heroes slipped right in--almost.

Settling in Japantown coincides with the formal recognition of the area's cultural legacy. Gov. Gray Davis last year signed the California Japantown Preservation Pilot Project, designed to preserve the three remaining settlements in San Jose, San Francisco and Los Angeles. Both events converge as a theme in San Jose Taiko's 30th anniversary concert. The troupe invited Kinnara Taiko from Los Angeles and San Francisco Taiko Dojo. Incredibly, this will be their first time performing together.

"The three groups coming from these three cities is a nice tie historically for all of us," says managing director Roy Hirabayashi.

Well before world music became a category at record stores, San Jose Taiko grafted African and Latin rhythm into its music and movement. Roy, an Asian American studies student at the time, invited Asian American musicians to experiment with the beat. The ethnic studies movement gave the group a political vision, but San Jose Taiko didn't stick to academics. The creation of identity needed a soundtrack, and Asian Americans had begun to latch onto the homegrown sounds of jazz.

"From the very beginning, we knew that our style would really reflect who we are as a critical mass at that time," PJ says. "We needed some type of voice to express our creativity, because there wasn't that much at that time in the '70s."

If the group hasn't made the point that the drumming art has beat down boundaries of genre and medium, the next generation is pounding that point into people's consciousness. 30 years ago, the troupe was No. 3 out of three. Now it's third in a line of more than 100 groups on the continent. Troupes have formed in places like Houston and Burlington with nary a Japanese or Asian American member.

Yet as American taiko has taken on a life of its own, the communities from which it sprang are dying out. Suburbanization chased out San Jose Taiko from two of its former practice spaces, including its last. While many hear its drums as a call to revitalization, some neighbors condemn them as disrupting life as it is now. For the internationally acclaimed troupe, Japantown may be its last stand.

Climbing Up

Taiko as independent regenerative American art--that's half of the Hirabayashis' utopia. The other half is holding home base in the community that San Jose Taiko has helped to build.

Except utopia will have to be put on hold. Across the street from Oikida Hall looms Miraido Village Apartments ("miraido" translates into the "future"). Quality of life to some of its residents means no drumbeats after 9pm or on weekends (weeknight classes end at 9:30 p.m.). One anonymous complaint brought the police. A conflict between the Oikida Hall's owner and the contractors isn't helping. Renovations were supposed to be done in February, and delays mean no new double-glazed windows to soundproof the 88-year-old building.

The troupe's current hassles play a variation on the same theme: The old ways are facing off with the new gentry.

"Many of the [older] Japanese families were involved in the [agricultural] industry. In the last 15 years, we've seen an incredible change in space here," says Roy. "A lot of the old warehouses were here, and those were the buildings that were being acquired and torn down for housing projects. In the last five years, there are at least four new housing developments."

Meanwhile, the troupe balances of being good neighbors and good community members. "We've worked with the apartment manager," Roy says. "We've circulated notices among residents [and] explained our schedule. We notified the community affairs office of the police department." Outgoing Miraido Village community manager Omar Medina says he hasn't dealt with anyone from San Jose Taiko and has seen nothing except a "long flier with no information whatsoever." The complaints come from Building One, directly facing Oikida Hall, and Medina claims three tenants have moved out because of the noise.

"The residents have said, 'Well, we're not saying anything about the culture. We love the culture. We just don't want to hear it," says Kathy Sakamoto, executive director of the Japantown Business Association, who found no complaints from surrounding businesses during two sound checks in April (Medina accompanied her in the afternoon sound check).

Besides performing at every Japantown event in the last 30 years, the group continues to promote activities like the upcoming Halloween Japantown Trick or Treat, a first. For the business and for the community, San Jose Taiko brings in tons of people, Sakamoto says.

"The people who are regular Japantown devotees--both in terms of residence and the people who come to visit--they always wanted Taiko to be here," Sakamoto says. "Japantown is Taiko's home."
---
San Jose Taiko performs its 30th Anniversary Show Saturday (Oct. 4) at 8pm at the San Jose Center for the Performing Arts, 255 Almaden Blvd., San Jose. Tickets are $21-$40 and are available through Ticketweb.com. (408.293.9344)
---
---
Send a letter to the editor about this story to letters@metronews.com.
---
[ Silicon Valley | Metroactive Home | Archives ]