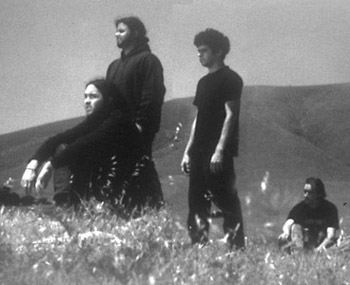 Los Gatos band dredg is wide awake in dreamland.

Sleeper Hit

With 'El Cielo,' a sonic journey through sleep paralysis, dredg could rise

By Sarah Quelland

AS A CREATIVE ENTITY, dredg has really matured over the years, and El Cielo, slated for release next Tuesday (Oct. 8) on Interscope Records, is a testament to its musical growth. Vocalist Gavin Hayes, guitarist Mark Engles, bassist Drew Roulette and drummer Dino Campanella haven't jumped on any bandwagon or followed any two-minute trends. Uncompromising in their determination to see their artistic vision realized, the Los Gatos-based collective has created an album of complex music, enriched by sound samples, strings and horns, that's beautiful, heavy, deep and transcendent.

Intricate and ambitious, El Cielo plays like the score to an art-house film exploring sleep paralysis, the thematic thread that ties this concept album together. Perhaps not accidentally, "Scissor Lock"--the least-ambiguous of the sleep-paralysis tracks, which describes the experience as "Beautiful washes of pulsating color / Buzzing white noise sounds like 100 bees"--ends with chatter evocative of Ministry's instrumental "Dream Song." The album quickly segues into the muted drum and bass of "Brushstroke: Reprise," which echoes the 1959 standard "Sleepwalk" through dreamy and sensual guitars. Altered passages roused from "Sleepwalk" can also be heard on "Sanzen," a dramatic and atmospheric song charged by uplifting music and desperate vocals. Meanwhile, "Sorry, but It's Over" reimagines the ascending riffs of Led Zeppelin's "Kashmir," again an unlikely coincidence given the Zeppelin song's trippy Moroccan desert scenario: "Oh, let the sun beat down upon my face, stars to fill my dream / I am a traveler of both time and space / To be where I have been."

There's consistency to the album as the songs merge, mingle and flow together. "Triangle" even looks back to Leitmotif with the lyrics "We live like penguins in the desert / Why can't we live like tribes?" There's a sense that there is nothing on El Cielo that is not deliberate, and dredg's record is best experienced with a great pair of headphones. On El Cielo, the listener enters dredg's dream state to ambient music laid over the sounds of scratching and water being poured in the mysteriously titled intro "Brushstroke: dcbtfoabaaposba."

Whether energizing or tranquil, there's a spirituality to dredg's music that helps center and soothe the soul. Grounded lyrics--"All you need is a modest house in a modest neighborhood in a modest town where honest people dwell" (Same Ol' Road")--resonate with simplicity, while the exotic short "Brushstroke: An Elephant in the Delta Waves" mesmerizes with hammer dulcimer, world-music percussion and guest vocalist Azam Ali of Vas. On other songs, Hayes poetically takes stock of his surroundings through short, simple observations: "White cloth / Black napkins / Wood chairs surround me / Wood tables / Foggy sign / In front with no nine" ("Of the Room"). The album closes with the sweeping epic "The Canyon Behind Her," made even more powerful by the deep, dramatic voices of members of the Los Angeles Master Chorale. A mishmash of style and instrumentation comes together here to create something fresh and unpredictable. El Cielo remains a puzzle waiting to be solved. I couldn't be more impressed.

The band has a number of dates lined up to coincide with the release of El Cielo, including the Pound in San Francisco on Oct. 10; the Phoenix Theater in Petaluma on Oct. 12; and, locally, a free acoustic show at Rasputin Records in Campbell on Oct. 13. A week later (on Oct. 18), the band headlines the Catalyst in Santa Cruz with Divided, Tenfold and Codeseven.

HOT TOPIC: Evidently too many people had a hand in booking bands for the all-ages Positive Skate Experience (Saturday, Oct. 5, noon-2pm at San Carlos and South Third streets in downtown San Jose) and, at deadline, no one was certain who would actually be performing. Regardless, bands will play and pro-skateboarder Doug Shoemaker will attend. Visit www.populuspresents.com for more info.

PLAN AHEAD: Rivals, Clearing Autumn Skies, Something Must Die, Hostility, End of All and Tyrant, Oct. 3 at the Gaslighter Theater in Campbell; SECURITY, Reaction 31 and Alien Love Syndrome, Oct. 5 at Kleidon's Lounge.
---
Send a letter to the editor about this story to letters@metronews.com.
---
[ Silicon Valley | Metroactive Home | Archives ]