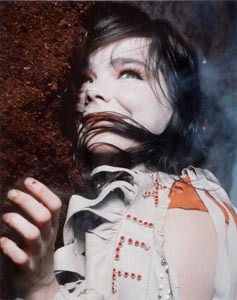 Dance to the Sounds: Björk beautifully integrates industrial noises into lush melodies on her new soundtrack album.





Björk's Artful Noises

On 'Selmasongs,' the soundtrack to 'Dancer in the Dark,' Björk marries mechanical sounds to musical fantasies

By Michelle Goldberg

PERHAPS BECAUSE she's so cute, Björk's role in fusing avant-garde sounds with the passion and accessibility of old standards is frequently overlooked. Critics often refer to her with variations on the word "pixie" instead of the equally deserved "genius."

Selmasongs (WEA/Elektra), the soundtrack to Lars von Trier's controversial new film, Dancer in the Dark, may not change that perception, but it should. On this album, much of the whimsy of Björk's previous work has been stripped away. What's left are lyrics of uncommon pathos, the white-hot miracle of her voice, and music that's an unlikely but exhilarating marriage of musique concrète and shimmering Busby Berkeley fantasy.

Dancer in the Dark stars Björk as Selma, a Czech immigrant laboring in an American factory who escapes from her life's burdens--she's going blind and so is her young son--in dreams of movie musicals. In the film, the clanging of machinery is enough to spark one of Selma's reveries, and Björk has beautifully integrated industrial noises into lush melodies on songs like "Cvalda" and "In the Musicals."

"Cvalda" begins with sounds of steam bellows, drills and dull assembly-line thumps. At first, it just seems like scene setting, but within a minute, the noises have assembled themselves into a kind of rhythm. Soon Björk's voice, energetic and elated, joins the emerging music with the words "Clatter, crash, clack! Racket, bang, thump!" Then she whispers, "It's music! Now dance!" and suddenly the whole thing gives way to a dreamy, surreal Hollywood-style showstopper, with an orchestra swooping in over the industrial percussion.

Of course, this number illustrates Selma's escapism and gift for finding delight in the midst of dreariness. But Björk's wonderful fusion of mechanical sounds and soaring melodies does more than just advance von Trier's narrative. Considered apart from the film, these songs also link electronic music's past to an inspiring vision of its future.

Factory Musicals: Lars von Trier's Björk is better than his moral bite in confused 'Dancer in the Dark.'

AFTER ALL, early electronic music sought beauty in the din of urban life. In his influential 1913 manifesto, The Art of Noises, Italian Futurist Luigi Russolo insisted that traditional instruments were inferior to "the crashing down of metal-shop blinds, slamming doors, the hubbub and shuffling of crowds, the variety of din from stations, railways, iron foundries, spinning mills ..." Russolo imagined a day in which "every factory will be transformed into an intoxicating orchestra of noises."
Pierre Schaeffer, considered a godfather of contemporary electronic music, created his famed 1948 Étude aux chemins de fer out of railroad noises. That work, with its pioneering use of tape loops, is undeniably important. It is also tedious, requiring hard concentration to find anything resembling music within it, as if Schaeffer were saying, "Here are the sounds of the world. Appreciate them!"
Björk, though, shares her character's capacity for finding hidden loveliness, which means that she does the work for us, bringing out the beauty in machine noises instead of making us dig for it. This tactic is especially meaningful now, when hundreds of near-identical beat-based tracks are churned out every week by bedroom tweakers eager to be respected as musicians but unwilling to put the time into creating something original. Electronic music needs humanity, tension and stories. Björk provides them.
Of course, Madonna has attempted to do the same thing with her last two records. The difference is that Ms. Ciccone is a follower, taking waning underground scenes and displaying them to the mainstream (as she does with French disco-house on her latest, Music). Björk, though, is an innovator, and with Selmasongs she shows how electronic sounds can be used in the service of grandiose emotion instead of just mood setting.
For a long time, electronic music has focused exclusively on atmosphere as a reaction to rock's obsession with linear narratives. With Selmasongs, Björk proves that electronic effects can be used in the service of storytelling. At the same time, she resuscitates ideas from film scores of the 1930s and '40s without being kitschy or ironic (as when Jimi Tenor tried something similar on his recent album, Out of Nowhere).
Like Étude aux chemins de fer, Björk's duet with Radiohead's Thom Yorke, "I've Seen It All," begins with sounds like steam trains. They turn into a hollow, dirgelike beat as Björk sings a song that's a heartbreaking mix of world-weariness and optimism.
She's going blind, but she says she's already seen enough in this world. The back and forth between her and Yorke recalls all manner of classic musicals, as do the swelling strings that accompany the chorus. But the disquieting electronic beats keep reminding us that we're not in a Technicolor dreamland, and the sense of sadness and perseverance in the lyrics is devastatingly serious.
The two play opposite sides of Björk's consciousness--in a typical passage, she asks, "What about China? Have you seen the Great Wall?" To which Yorke replies resignedly, "All walls are great if the roof doesn't fall." Later, they switch roles, with Yorke taunting, "You've never been to Niagara Falls," and Björk replying with stoic despondency, "I have seen water. It's water, that's all."
Is the song a triumph of optimism or a tragedy of disillusion? Or both? Either way, it's hard to think of any experimental electronic music in history that's tackled such serious human themes.
ALSO EVIDENT throughout Selmasongs is Björk's ability to turn old-fashioned pop tropes into something surrealistically new (although this skill will be familiar to her fans from her fanciful covers of mainstream American songs such as Chet Baker's "Like Someone in Love" and the Carpenters' "Top of the World").
The breakbeats at the beginning of "In the Musicals" sound like a frenetic parody of the tap-dancing percussion in Fred Astaire films, while the song's fervent, hypermelodic peaks are like Rodgers and Hart tunes played at double speed with a jumpy needle. The result is both beautiful and disquietingly intense. Her refrain, "And you were always there to catch me," sounds less like a lover's appreciation than a desperate delusion.
Then there's the combination of static, strange pulses and nursery-rhyme sweetness on "Scatterheart," an achingly tender, anxious lullaby. It's a song about a mother's love colliding with her inability to protect her child; whispering, Björk wishes, "Just to make it easier on you," but the chorus has her wailing, "You are gonna have to find out for yourself."
Of the seven songs on the album, there are a couple that seem undeveloped. The instrumental "Overture" doesn't stand on its own, and on "107 Steps," which consists largely of Björk singing numbers, the floridly theatrical orchestration quickly overheats.
Nevertheless, there is no musician alive who merges delirious experimentation with such ardent, transporting emotion. Björk recently told Esquire that the experience of making Dancer in the Dark was so traumatic that she never wants to act again. Perhaps she won't on screen, but there's no limit to the dramatic potential in her celestial voice.
[ San Jose | Metroactive Central | Archives ]