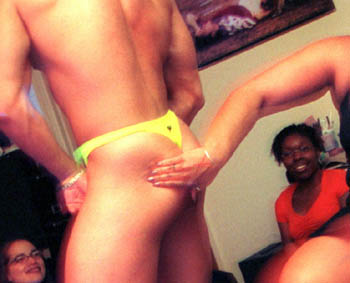 Strip Maul
Women just love a man in uniform--especially when he takes it off
By Dara Colwell
There's laundry strewn across the upstairs bedroom, tumbling over boxes, crumpled in the sheets, lying near workmen's boots on the brownish carpet and peeking out of the mirrored closet. "God, it's that college student smell!" says the police officer, spraying a thick cloud of Calvin Klein's "Eternity" over everything in sight. Choking on cologne, I am bravely positioned on the unmade bed--it looks relatively "safe" in the dim light--praying that no one decides to enter the room with a lit cigarette.
Then the ladies start piling in from the birthday party below. Large, voluptuous, with skin-tight jeans and towering, solid platform shoes, swirling fruity cocktails in plastic cups, the girls drape themselves on the limited furniture available, as well as the floor. The police officer casts his eyes on an extremely well-proportioned African American in a snug blouse and addresses her. "Hey, Brown Sugar," he says, tilting his chin. Her immediate response: nervous laughter and feigned disbelief.
Then the music starts with a sexy, thumping beat perfect for grinding. The cop guides Honey Gonzales, the birthday girl with a look of feline expectation in her eyes, down into a chair and begins gyrating over her lap. Facing him, she lets her lacquered fingertips run haltingly down the back of his firm, navy-clad thighs. There are a few whoops of approval, but the room seems surprisingly still. Whenever Tyler, our man in uniform, approaches another lady, a look of anticipation mixed with fear rushes briefly over the girl's features. It's as if she's thinking "Puh-lease, don't do that to me! Well, OK ..."
Never properly initiated outside my pack of Chippendale playing cards, this is the first time I've seen a male stripper in the flesh. But Tyler is putting my ignorance to rest. As he bumps and grinds, gracefully slipping one layer of clothing off after the other, a beautifully toned body emerges--something most of us girls have no idea what to do with, at least in public.
While seeing a sexy male body responding to a woman's beck and call feels liberating, it also seems somewhat sedate compared to those pole-vaulting, boob-shakin' vixens who populate the strip dives men frequent.
"Men are more visually erotic animals than women," says Santa Clara's resident sex doc, psychotherapist William F. Fitzgerald. "While there's a certain degree of allure for men in a woman taking her clothes off slowly, the real punch comes from her being naked." On the other hand, women "are typically more into romance--that implies more performance. Women prefer a slow, gradual progression, more like foreplay."
Fitzgerald adds, "Women want an erotic story line, as opposed to the bottom line for guys."
Tyler, a graduate student working his way through med school (why didn't my fellow journalism classmates look like that?), has now turned off the lights and switched on a purple florescent lamp. He lies down on a white towel, his yellow thong glowing like a beacon, and squeezes some paint onto Honey's outstretched hand. She begins swirling the colors--green, yellow and red--over his chest, circling his nipples until his torso looks like a florescent Picasso. Everyone is quiet and there's an erotic concentration suffusing the room, muting the Prince song playing in the background. This does seem rather like foreplay--all touch, slow exploring, teasing. And Tyler's not looking too displeased himself. Later, he tells me, "I should really be paying them for the job!"
Once the lights go up and Tyler's physique has weathered a progression of salt, lime, tequila and whipped cream, the girls lose interest and leave the room. After all, there are boyfriends at home and drinks downstairs. Tyler made $143 for the hour, not bad but not great, either. A female stripper would easily make three times that amount. But for Tyler, the experience is as valuable as the money.
"I wouldn't trade the things I've seen for anything," he says, wiping himself off. "Stripping has changed my perspective on what beauty--or vanity--is. More than anything," he says, "you've got to sell more than just the bod."
Any woman could have told him that.
[ San Jose | Metroactive Central | Archives ]