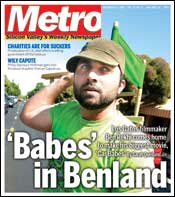 For the Week of
October 5-11, 2005
Cover Story: 'Babes' in Benland:
Los Gatos filmmaker Ben Rekhi comes home to make his latest and biggest movie, the car-salesman flick 'Car Babes.'
News: Charities Are for Suckers:
The privatization of U.S. relief efforts in the Gulf Coast is letting government off the hook.
The Fly: Carol Myers, white flight watchdog.



Silicon Alleys: Domo Arigato, Mr. Roboto!
Techsploits: Bugged Game.
Rev: Like little worms, tires buried underneath yards and yards of debris naturally migrate toward the top of the pile.



Circles Of Hell: At the San Jose Museum of Art, Sandow Birk escorts Dante into the modern world.



Wily Capote: Philip Seymour Hoffman gets into the bloodstream of author Truman Capote.
The Dickens, You Say: Polanski makes erratic improvements on Dickens with 'Oliver Twist.'
Top Carrot: Gumby's British cousins, Wallace and Gromit, track the were-rabbit in new animated feature.
Jingles Jangle: Julianne Moore plays a '50s housewife on a winning streak in Defiance, Ohio.



Patrick's Podium: When pushed by stalwart guest conductor Patrick Flynn, Symphony Silicon Valley rises to the occasion—but it should do better.
Signing Off: Commercial radio, make way for the revolutionary new KBIR!
A Mission From Gadd: Lemmon Percussion hosts stick man Steve Gadd.
Club Life: Angels Ultra Lounge and Cabaret.



Book Box: 'Greetings From the Salton Sea: Folly and Intervention in the Southern California Landscape, 1905-2005' by Kim Stringfellow; 'Matisse the Master--A Life of Henri Matisse: The Conquest of Colour, 1909-1954' by Hilary Spurling.



Say Cheesesteak: Leave your arteries at home and find a little bit of Philly in Silicon Valley.
Silicon Veggie: Entrees? Who Needs Entrees?
5 Things to Love: Dog-Friendly Restaurants.



Firebird Rising: Dennis Nahat and Ballet San Jose Silicon Valley remake Stravinsky's 'Firebird.'
La Taj aux Folles: TheatreWorks goes easy for world premiere of 'Baby Taj.'



Please don't forget to write! Metro welcomes letters. Like any great work of art, they should be originals — not copies of letters sent elsewhere. Include address and daytime phone (for verification purposes only). Letters may be edited for length and clarity or to correct factual inaccuracies known to us. Postal: Metro Letters, 550 S. First. St., San Jose, CA 95111. Fax: 408/298-0602. Email: letters@metronews.com. Emailers, please include name, city of residence and phone number. Letters printed will list email address unless otherwise specified. Letters to the editor are not currently published in the online version of this paper.