Book Box
Greetings From the Salton Sea: Folly and Intervention in the Southern California Landscape, 1905-2005
"An excellent example of the overlap between human-made and natural environments." That's the Salton Sea, 360 square miles of 30-foot-deep briny water seething under the fierce sun on the United States/Mexico border, a parting gift from the Colorado River before it was imprisoned by Hoover Dam. On the 100th anniversary of the Creation Flood--a catastrophe described in far more vivid terms in Marc Reisner's Cadillac Desert--Kim Stringfellow photographs the human and animal residue around the ever-eroding rim of this sink, once a visiting spot for hundreds of thousands of seabirds, once a recreation spot that drew Hollywood celebrities, now a blooming septic pond working its way back from a bellyful of agricultural runoff and from massive fish and bird kills (avian botulism and Newcastle's disease both took their toll). By putting portraits of dead tilapia fish next to caved-in motels, Stringfellow underscores the tragedy of the continuing ecocide of California. (By Kim Stringfellow; Center for American Places, distributed by the University of Chicago Press; 136 pages; $25 cloth)
—Richard von Busack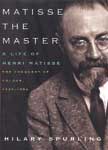 Matisse the Master--A Life of Henri Matisse: The Conquest of Colour, 1909-1954
French painter Henri Matisse usually comes out on the short end of the brush in comparison with Picasso, who was always more political, more intellectual, more publicity worthy. While Picasso's Cubist innovations were hailed by critics, Matisse's experiments with pattern and color were sniffed at as decorative and frivolous, especially when, in old age, he stopped painting and started creating collages from scissor-cut forms pinned to sheets of brightly colored paper. It didn't help that much of Matisse's best work was hidden away from view in Soviet Russia at the home of his patron Sergei Shchukin or in the almost inaccessible collection of American millionaire Albert C. Barnes for most of the 20th century. Hilary Spurling's new biography (which completes a two-volume work begun with The Unknown Matisse) redresses the balance between the two 20th-century modernist titans (who admired each other greatly, if a little warily).
Spurling rightly points out how startling and influential Matisse's forays to the furthest reaches of optical perception and pure color really were, provoking shock and curses from appalled gallery goers when they got a look at the assault of pinks and greens that is Nymph and Satyr. But her analysis of individual paintings is not as insightful as her understanding of the complex web of family relations that allowed Matisse to pursue his art with obsessive force--even at 70, Spurling relates, Matisse said that he still "felt the urge to strangle someone before he could begin to paint." Matisse's wife, Amélie; his sickly but dogged daughter, Marguerite, who endured endless operations to keep her collapsed windpipe open and who was tortured by the Nazis; and a succession of devoted models/muses/nurses coddled and cajoled the crusty patriarch through the horrors of two world wars, unending marital strife (he and Amélie eventually separated), depression and multiple illnesses. All were in thrall to Matisse and his vision. As the surrealist French poet Louis Aragon wrote in his strange, fevered "novel" about Matisse (a book well worth seeking out for its personal observations of the artist in the 1940s), "One is as powerless before genius as before a snake." (By Hilary Spurling; Knopf; 512 pages; $40 cloth)
—Michael S. Gant
---
Send a letter to the editor about this story to letters@metronews.com.
---
[ Silicon Valley | Metroactive Home | Archives ]