[ Metroactive Central | Archives ]
October 5 to October 11, 1995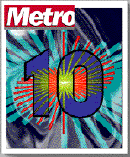 FeaturesArts &amp Entertainment
Dining
Waiting for Merlot: In the Sonoma vineyards of Gundlach-Bundschu, chardonnay waits for no man and merlot ripens in its own sweet time.

Music
AudioFile: Reviews of the latest CDs by Sally Timms, Garbage, Super Junky Monkey and various artists.

Beat Street: Cupertino Library issues moratorium.

Art
TV's New Notions: Newcomers Murder One and Space: Above and Beyond outshine some tired TV favorites.
Metro Staff Box
---
This page was designed and created by the Boulevards team.
Copyright © 1995 Metro Publishing and Virtual Valley, Inc.
---