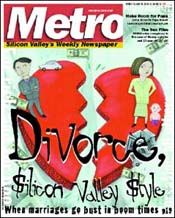 For the Week of
October 7-13, 1999
Cover: Divorce, Silicon Valley Style
With stock options, overnight millions and soaring real estate values, divorce in the valley is a complicated and costly affair that often takes couples into uncharted territory.
News: Female Driver
San Jose's Melanie Penney infiltrates the testosterone-fueled, all-male world of stock car racing and finds out it's a gas.
Campbell: San Tomas area residents react strongly to city's proposed changes to neighborhood plan.

Los Gatos: Town may manipulate current massage licensing regulations.

Saratoga: Sister cities celebrate 15-year relationship.
Driven to Distraction: Doc's orders: talk into a tape recorder and call me in the morning.

Public Eye: Supe can't derail train museum at Fairgrounds. Hired gun goes to work for Cable Guy. The case of the missing toilet paper.






Make Room for Papa: Local favorite Papa Roach lands a major-label contract.
Aural Fixation: A new generation of heavy-metal bands vamped last Thursday at the Usual.
Positively Insane: Insane Clown Posse gets in the face of the crowd at the Edge.



For Whom Bell Science Tolls: Dr. Frank Baxter and the Bell Science films of the '50s and '60s haunt the memories of Baby Boomers.
Rock Candy: Allison Anders and Kurt Voss are sweet on aging rockers in 'Sugar Town.'
Best of Friends: Pals play musical beds in 'Bedrooms & Hallways,' an amusing comedy about nothing.
Will to Resist: Claude Berri's 'Lucie Aubrac' focuses on a woman fighting back in WWII.
Romancing Raoul: South Bay Jewish Film Festival gets under way with 'Autumn Sun.'



Known, Not Known: San Jose artist Peter S. Conrad retells Zen koans in 'Attempted Not Known' zine.
Prison Prose: Bell Gale Chevigny speaks about 'Doing Time.'



The Sex Files: WORK! cries conspiracy in the case of Disney webster and 13-year-old girl.



All in the PAS: San Jose's Performing Arts Series showcases a world of local cultural groups.
Gender Wars: City Lights' production of 'Lysistrata' relies too much on slapstick.



Island Fantasies: Downtown's new E & O Trading Company takes diners on a South Seas adventure.
A La Carte: Popular Silicon Valley pizzeria opens up a San Francisco branch.



Please don't forget to write! Metro welcomes letters. Like any great work of art, they should be originals -- not copies of letters sent elsewhere. Include address and daytime phone (for verification purposes only). Letters may be edited for length and clarity or to correct factual inaccuracies known to us. Postal: Metro Letters, 550 S. First. St., San Jose, CA 95111. Fax: 408/298-0602. . Emailers, please include name, city of residence and phone number. Letters printed will list email address unless otherwise specified. Letters to the editor are not currently published in the online version of this paper.