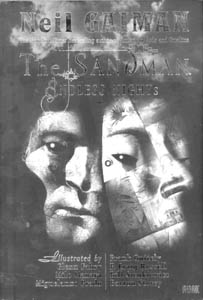 Sandman Grit

Neil Gaiman brings his 'Endless Nights' to SJSU

By

IF YOU THINK comic books are about superheroes in costumes hurling lightning bolts at each other, then Neil Gaiman will come as a pleasant surprise. From 1989 to 1996, his revolutionary Sandman series of graphic stories changed the entire landscape of contemporary comics, bringing them as close to all-out literature than ever before. Stephen King, Clive Barker, Norman Mailer and Tori Amos have promoted Gaiman's work, and he's now a seminal figure in the history of comics. Since then, he's pocketed Hugo, Nebula and Bram Stoker honors and he's the only author of a comic book ever to win the World Fantasy Award.

After a few bestselling novels and a screenplay, Gaiman returns with The Sandman: Endless Nights, a new hardcover graphic novel ($24.95) comprising seven stories and illustrated by seven world-renowned artists, including Milo Manara and Barron Storey. While Gaiman fans will be reacquainted with some old, dear friends in Endless Nights, newcomers to the graphic- novel medium will also delight in the book's dark, mythical tales--whether haunting, bittersweet, erotic or nightmarish.

Endless Nights returns to a place called "The Dreaming," where a bickering crowd of seven siblings called "The Endless" engage in a mythological soap opera. The book's seven stories depict the seven siblings, named Dream, Death, Delirium, Desire, Despair, Destruction and Destiny. Delirium is described as "The youngest sibling, she smells of sweat, sour wine, late nights and old leather. Her realm is close and can be visited, but human minds were not made to comprehend her domain." Desire has "skin as pale as smoke. Its eyes are tawny and sharp as yellow wine. Desire is everything you have ever wanted. To see her (or him) is to love him (or her), passionately, painfully, to the exclusion of all else."

SJSU's Center for Literary Arts kicks off its Major Author Series by bringing Gaiman to San Jose for a conversation and reading on Oct. 16, and the organizers aren't shy about calling him "the hottest author alive." To coordinate with Gaiman's reading, Hijinx Comics will host a grand-opening celebration at its new downtown location at 330 S. Third St.
---
A Conversation With Neil Gaiman takes place Thursday (Oct. 16) at 4:30pm at the University Room (in the old cafeteria building) on the SJSU campus. Free to the SJSU community. An Evening With Neil Gaiman takes place Oct. 16 at 7:30pm at Morris Dailey Auditorium on the SJSU campus. Admission is $7 for students/faculty/SJSU staff; $15 for the public. Tickets are available at the SJSU Event Center (408.924.6350) and from Ticketmaster.
---
---
Send a letter to the editor about this story to letters@metronews.com.
---
[ Silicon Valley | Metroactive Home | Archives ]