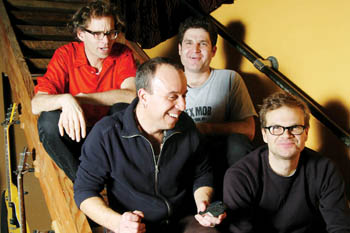 The Mob Rules: Sex Mob's avant-garde take on jazz unites beatheads and jazzbos alike.

Steady Mobbin'

Sex Mob's 'Dime Grind Palace.' Have five juicier words ever been strung together?

By Yoshi Kato

SEX MOB is a joy-fueled avant-jazz quartet led by slide trumpeter and Berkeley native Steven Bernstein. Dime Grind Palace is the mythical, grandiose name of the New York-based quartet's fifth album--a title that has impressively steamy historical significance.

"I heard it was just a dance hall," as depicted in the standard "Ten Cents a Dance," Bernstein says. "It's any kind of funky place where people hang out, and there's music. But for me, it's just an evocative term."

On previous Sex Mob albums, original pieces were mixed with works by the likes of Duke Ellington, Paul McCartney and Kurt Cobain. Conversely, DGP consists mostly of Bernstein originals. Bernstein considers the record his dream project, because it features such special guests as free-jazz pioneer Roswell Rudd and is an outlet to present music he's composed for the band. Bernstein freely acknowledges that it is also a risky proposition.

"I know when I did it that it was exactly what I wanted to do. But, man, what if it's too personal?" he asks in a recent phone interview from his home in Manhattan. "It wasn't like the other stuff, which was all covers and songs that people kind of knew and had that bridge to get into it. But I just didn't want to do that again."

A graduate of the first Berkeley High School jazz program group (with the likes of saxophonist Craig Handy and multi-instrumentalist/Dime Grind Palace participant Peter Apfelbaum), he studied with friend and fellow trumpeter John Coppola before moving to New York in 1979. Upon hitting the music scene, he participated in the downtown experimental-jazz scene and became musical director for John Lurie's Lounge Lizards.

In his career, he has managed to cast a wide musical net, playing live and doing session, scoring (Animaniacs and the Get Shorty soundtrack) and advertising work. He is at home in many a varied setting, working with everyone from Aretha Franklin and They Might Be Giants to the late Mel Torme and Ryuichi Sakamoto. He's also co-lead of Spanish Fly, a trio with Marcus Rojas on tuba and David Tronzo on guitar, and is now best known as the leader of Sex Mob, which includes alto saxophonist Briggan Krauss, drummer Kenny Wollesen and bassist Tony Scherr. One of Bernstein's other projects has recently received national publicity. His Diaspora Soul unit was part of a story on National Public Radio's All Things Considered on the mixing of jazz and Jewish-music traditions.

"I can relate to anybody, man, because I've played with so many people--from the most avant-garde guys to the straightest," he says.

For the upcoming concert, Sex Mobsters shouldn't expect the band to play too many tunes off Dime Grand Palace. "When we play live, I still like to play the tunes that people know," he explains. "I'm really a full believer in getting the audience into the music.

"I still believe it's a good way to do it, especially when you have people who might not necessarily be jazz fans. I know a lot of people are intimidated by jazz music and don't really know how to listen to it. If it's too abstract for them, then you've lost them. But once you fill in that melody they know, then you can make it as abstract as you want, after you've played that melody."

Bernstein's excited about playing the South Bay once again. "San Jose, that's our special place. We have the best shows in San Jose," he says. "I remember one show we did, and they had done a front page feature in the local arts section. There were all these people there--60-year-old Indian ladies who worked at computer companies, stuff like that. It was really funny. And then the last show we did was a totally mixed audience--old and young, all kinds of people. I love San Jose."
---
Sex Mob performs at 8:30pm on Friday (Oct. 10) at the Grand Germania Hall, 261 N. Second St., San Jose. Tickets are $10. (408.286.1313)
---
---
Send a letter to the editor about this story to letters@metronews.com.
---
[ Silicon Valley | Metroactive Home | Archives ]